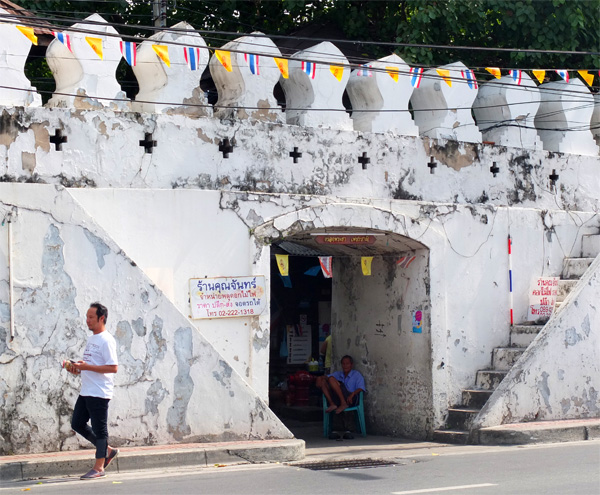 BANGKOK — A showdown is brewing for Saturday after neighborhood activists invited the public to come out in support of the historic Pom Mahakan community, which they believe City Hall will take steps to demolish.
After 24 years of fighting, dozens of discussions and delayed ultimatums, members of the community behind an old fort near Wat Saket and its supporters said Wednesday they are convinced the city will take action this weekend to finally begin forcible eviction.
The most recent deadline of Sept. 3, announced in July, was reiterated once again last week by Deputy Bangkok Gov. Aswin Kwanmuang. He also insisted no more extensions would be granted. He said the city would move this weekend to knock down 13 homes whose owners had previously agreed to leave.
Read: This Endangered Community Has Been Fighting Eviction 24 Years (Photos)
Community leader Thawatchai Woramahakhun said a minority of residents in the community had accepted compensation to relocate.
In 2005 the Supreme Court ruled that City Hall had the right to clear out the century-old community and replace it with a park, as it is situated on public land.
More than 300 residents who have lived there for three generation then proposed sharing the space in order to protect their history.
To illustrate, the residents, with the help of community activists, created a "living museum" where people could visit and learn about local history and culture. The public learning space opened July 10 but was suspended recently when they learned the eviction was moving forward.
Though Deputy Gov. Aswin attended a historic public hearing in June and assured the community it would be consulted on an agreeable solution, the decision to evict came unilaterally from the city.
Walailak Songsiri, a community history expert and principal supporter, called for the public to gather at 8am on Saturday to protest the eviction.
Walailak said they may be unable to stop the eviction but must send a message about community preservation to the authorities and bear witness to its destruction.
"We just want to show the power of people outside of social media," she said. "If Pom Mahakan is gone, soon other old communities will be gone too."
Walailak said she was unsure how Saturday's confrontation would turn out.
"They have been fighting for more than 20 years, as we know, their hearts must be very strong," she said.