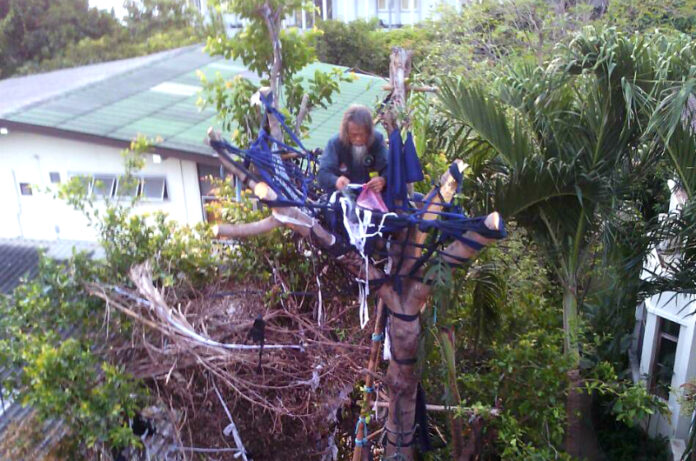 BANGKOK — For more than 30 years, Jadet Manopas has always climbed up one of the three big trees in front of his Thonburi home to take in a bird's eye view of the sun rising over Bangkok.
But that routine will soon end. The 71-year-old man returned home from a trip to the south Friday to find two of those big trees gone, and only the third cut in half. Distraught, he looked for answers and learned from district officials that they had to be removed for an underground drainage.
"I am sad. I have been taking care of them for 30 years," Jadet said Saturday.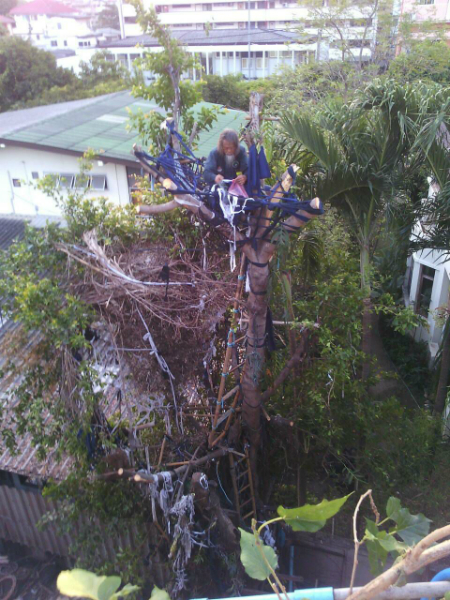 He insists they didn't obstruct the way and said the drains were already put in place where the roots wouldn't be a problem, so he saw no reason to destroy them.
The three trees – two banyan and a tamarind – stood in front of the Buppharam Police Station close to Jadet's home of four decades. He said he's kept the trees trimmed himself to make sure did not block any public space.
"An officer asked me, 'Who's going to take care of them if you die?'" he said. "But in fact, it should be them, because the trees on public property."
The full-time environmental activist said Thonburi district officers told him they would discuss whether what was left of the one banyan tree, a tree with spiritual significance to many, can remain.
When Jadet climbed up the tree Friday to possibly say goodbye to his old friend for a final time, an activist friend captured the moment he was on the tree and posted it online to spark public sympathy.
"If they want to cut it, I will just need to let them do. I can't fight with those who have the law in their hands," Jadet said. "But my friend said we must campaign through the media."
The move is not the last hope to save the last half of his community's big tree, as he hopes to awaken public interest in the capital city's green spaces.
"We don't want them to cut big trees in Bangkok, which gradually decrease every day," he said. "It was cut in the name of development of the soi and road."
Jadet said district officers would return with an answer Monday.