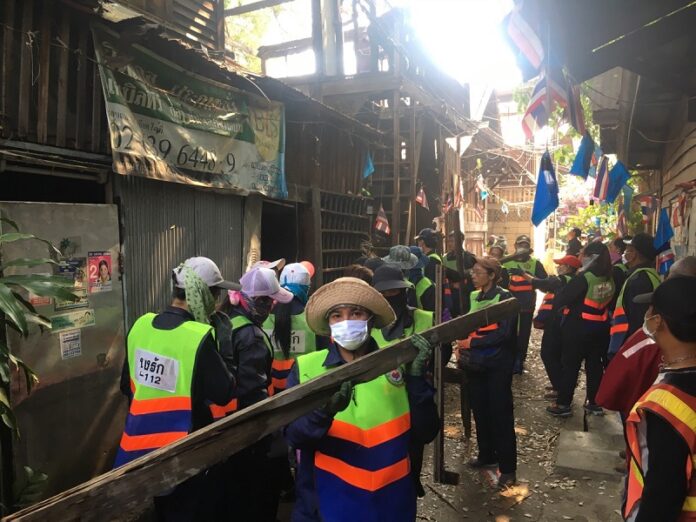 BANGKOK — City Hall moved Monday morning to demolish another four homes in a century-old community behind a historic fort wall in Bangkok where it plans to build a park.
City work crews moved in intent on removing 10 homes from the Mahakan Fort community, but after negotiating with the community members who have resisted eviction, settled on four homes whose owners had voluntarily agreed to leave.
Most of those still living there insist that they want to remain on the same land their families called home for three generations and have recently proposed opening their community for shared use with the public.
Read: This Endangered Community Has Been Fighting Eviction 24 Years (Photos)
The Mahakan Fort community, or Pom Mahakan, has resisted eviction and municipal development efforts for 25 years, with both sides dug in and refusing to budge.
The first homes were cleared late last year, 11 years after the Supreme Court ruled in 2005 that the Bangkok Metropolitan Administration had the authority to clear the community and reclaim the land for public use.
Opposed by community rights groups and academics, the eviction saga saw no progress until the military government came to power in 2014 and made reclaiming public space a priority.
In September, City Hall was finally able to knock down 12 homes whose owners had previously accepted compensation to depart.
Community supporters have been petitioning to save several 100-year-old residences which feature unique and distinctive architecture from the past.
Most recently, members of the community pitched the idea of sharing the space with the public, could enter and enjoy use of a park, and the residents who could remain as a living museum to Bangkok history.
The idea did not seem to win support from the government, which pressed forward with its eviction campaign.
During negotiations, the community on Monday also asked City Hall to keep to two agreements made in September: including all stakeholders on a committee to seek solutions and sparing several homes built more than a century ago.
Pom Mahakan residents on Monday also asked to have the military's 1st Field Artillery Regiment of the King's Guard, which is based nearby, to act as a middleman from now on. They said they trust the unit as they have been in regular communication.