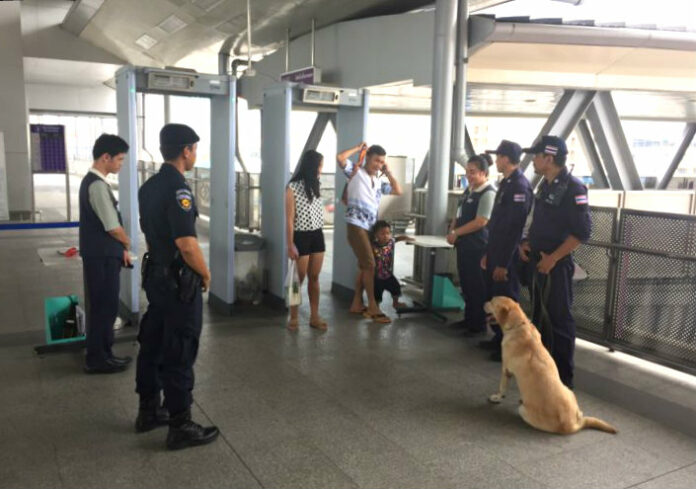 BANGKOK — Bangkok's subway system raised security measures Wednesday following the discovery of a pipe bomb found near one of its stations.
Security guards, EOD personnel and K-9 units will be on patrol 24 hours a day while bag checks at entrances will be more strictly enforced, Thiraphan Techasirinukul, acting head of system operator Metropolitan Rapid Transit, said today.
Vehicles parked in lots near MRT stations will be searched. Drivers must cooperate with officers if they are asked to open their trunks.
At about 3pm on Tuesday, a thick black pipe and rusty nails were found in a green basket wrapped in black-colored plastic in an empty lot near MRT Thailand Cultural Centre.
Police said they no longer think two men seen by a witness placed at the scene were  involved.
Bangkok police chief Sanit Mahathavorn said today he believes the explosives-packed pipe was dumped there many weeks ago. The perpetrators, according to Sanit, didn't intend to harm anyone since the object was found in an area not frequented by people.
He added that the pipe bomb was different from the one which exploded May 22 in the waiting room of a Bangkok hospital, injuring 21 people.
Related stories:
2 Men Seen Where 'Bomb' Discovered Near MRT