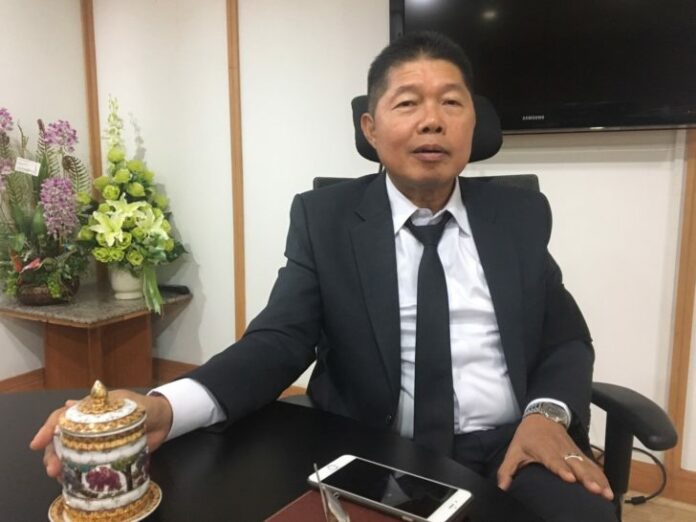 BANGKOK — A deputy Bangkok governor is under fire for suggesting that more young men are becoming infected with HIV because there are more gay characters on television.
After Thaweesak Lertprapan said HIV infections in young men were rising – itself a dubious claim – because they are imitating gay television characters, members of the LGBT community criticized him for making an ignorant and unfounded claim based on stereotypes.
"I'd recommend the deputy governor study this more before making assumptions," researcher-activist Paisarn Likhitpreechakul wrote in a message. "This kind of negative mentality is what makes the risk of contracting HIV high."
Nimit Tienudom, director of the AIDS Access Foundation, said Thaweesak's comments, made Tuesday at a government health conference, amounted to groundless opinion.
"I don't agree with him. I think it's an opinion which doesn't have any supporting study or research to support" Thaweesak's characterization of gay men's sexual behavior, Nimit said.
Online, LGBT community Trasher Bangkok said the deputy governor was "throwing shit."
"Saying this is like throwing shit and putting a guilt trip on a specific group," Trasher wrote online Thursday. "Do you even know educational Thai TV series like 'Hormones' or 'Gay OK?' … Please study a bit before speaking."
"Many times we wonder how these kinds of people get to become an authority," it continued. "It's true that HIV infections are mostly among gays, which is a problem that needs prevention and solution. But saying that being gay is caused by the media because it's cool and 'fashionable' is totally outdated."
On Tuesday, Thaweesak was chairing a government conference on AIDS protection and treatment at City Hall. He was discussing infected populations in different communities when he said he was worried about increased infections in men under 25.
He didn't provide any data to support his claim. The number of HIV-positive Thai teens and men under 25 has been low-and-falling every year for over the past decade, according to UNAIDS.
Continuing, Thaweesak blamed their lack of knowledge and the proliferation of gay characters portrayed in television and media.
"The risk to HIV is increasing among gay men more than other groups because of men imitating behavior from TV soap operas and social media. This has made being gay fashionable and hastened the coming-out process among youths," he said at the event.
His comments were published uncritically by several media outlets. Reached for comment Thursday, Thaweesak doubled down on his assertions.
"You see, gay characters shown on TV and in the media hasten the youth's coming-out process," he said. "Their behavior is viewed as fashionable and influences the youths to imitate it."
Asked Friday what evidence he used to support his claim, Thaweesak said he had no research and was just repeating what someone had told him at the conference before saying he was in a meeting and ending the call.
Reality Check
According to UNAIDS, the number of new HIV patients has declined since peaking in 1992, with approximately 8,700 new cases reported in 2014, 7,300 in 2015 and 6,400 in 2016. New HIV infections are still mostly found in men who have sex with men and transgender women.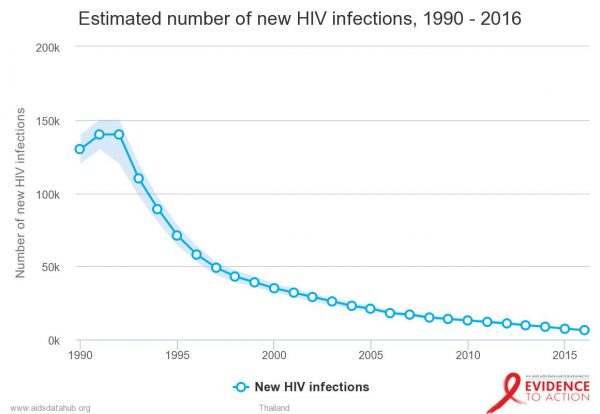 The main cause of infection is unprotected sex (96.6 percent), and most patients are young men between 14 to 24, according to a December 2016 report from the Department of Disease Control.
The LGBT activists said the problem lies not with seeing gay people represented on television, but rather social barriers, poor education and limited access to health care.
"The reasons why gay men have a higher risk of contracting HIV are prejudice and social stigma, which prevents them from coming out of the closet and blocks them from accessing health care services," Paisarn said.
"[A] big issue is that many young gay men don't seek out HIV education, testing and treatment services for fear of the discrimination and exclusion they could experience if they're 'outed' or if they are diagnosed with HIV," wrote Midnight Poonkassetwattana, executive director of the Asia Pacific Coalition on Male Sexual Health, or APCOM.
Nimit said the biggest factor remains unprotected sex between gay men. The solutions haven't changed either: promote use of condoms, regular testing and convenient access to health care.
The Public Health Ministry since last year has installed nearly 4,000 "condom points" around Bangkok at hospitals, schools and public restrooms.
Danai Lonjongrat, director of the Rainbow Sky Association, said that while Thaweesak was right that young men in Bangkok are most at risk of infection, he was wrong to blame the media.
"Actually, TV and the media these days are making the environment more gay-friendly," Danai said Friday. "As I've worked in the field for many years, it used to be difficult to study HIV/AIDS among gays in Thailand because they were still in the closet. But today, partly because of the media, they come out and are encouraged to get tested and get medication to prevent AIDS [from developing] in time"
"Having gay characters on TV helps make young gay men feel more comfortable about their sexuality which in turn means it's more likely that they will seek support for issues related to HIV and their health," Midnight wrote in an email.