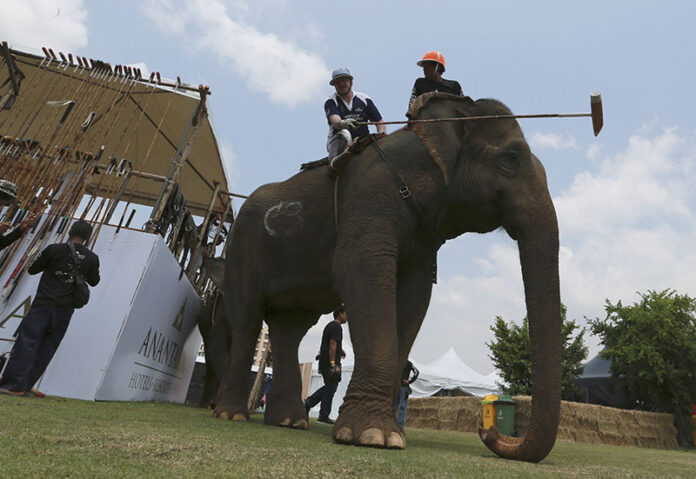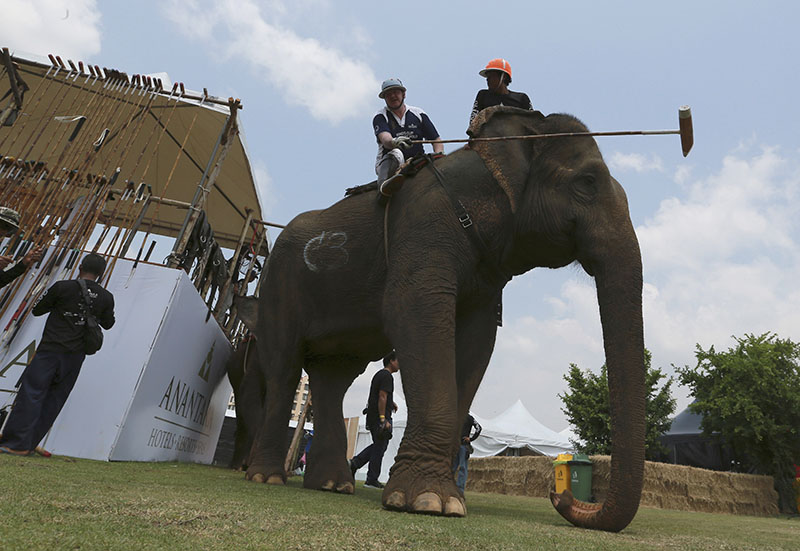 BANGKOK — The organizers of an annual elephant polo tournament said Thursday they would train handlers to prevent future instances of abuse as more sponsors reportedly pulled their support.
A spokeswoman for the venue of the King's Cup Elephant Polo tournament said mahouts would be trained to reduce use of the bullhooks used to beat the animals in a video released by the People for the Ethical Treatment of Animals, or PETA.
"We approached the village the mahouts are part of and called them to be trained in November," Jularak Cholharn said, adding that a Brazilian expert would be flown in to help the effort.
Read: 8 Sponsors Drop Thai Elephant Polo: PETA
On Wednesday, British whisky brand Johnnie Walker and British firm PricewaterhouseCoopers, or PwC, joined eight other firms to withdraw their support in the aftermath, according to PETA.
"We do not support any mistreatment toward animals of any form," said Shutchada Chandrangsu, a spokeswoman for Johnnie Walker brand owner Diageo Moet Hennessy. "We will not be sponsoring this event in the future."
After initially saying they would end all support, Shutchada said Diageo was dropping sponsorship for the event and instead begin supporting elephant conservation efforts by tournament organizer Minor Hotel Group.
The sponsor backlash follows a video PETA released earlier this month showing mahouts violently striking elephants on the grounds of the tournament. The video was released a day after it began on a purpose-built pitch near the Anantara Riverside Bangkok Resort.
Anantara is part of Minor International, a Thai conglomerate that owns several hotel, restaurant and retail chains. It's stock was trading 37.75 on the SET.
European, American and Australian firms Sunraysia, Campari Group, Grohe, Ecolab, JDE, Angus Energy, Hafele and Vespa withdrew their support for the event in the days that followed.
Ashley Fruno, a PETA campaigner, said Thursday that elephants don't belong on polo fields, adding that using them for show – with or without the bullhooks – is "shameful and reprehensible."
"By withdrawing their sponsorship, these companies have proudly set a positive example for those that still support such abusive spectacles to follow," Fruno said in an email.
Since the event, the page listing the event's sponsors has become inaccessible. Jularak said she was unaware which firms had officially withdrawn support.
According to PETA, Campari responded to its call by saying it "condemns any form of violence and mistreatment towards animals and for this reason has decided to immediately suspend its sponsorship of the event."
Phone calls to PwC went unanswered as of publication time.
The event's host, 68-year-old billionaire William Heinecke, who heads Anantara owner Minor International, said March 11 that the event's organizers would continue doing "the best we can."
Minor sponsors a variety of elephant conservation programs such as the Zoological Parks Organisation of Thailand in Surin province and the Thai Elephant Therapy Project.
Jularak said they would need to find alternate sources of financial support. She said Minor welcomes any suggestions PETA has to improve its tournament.
"If PETA can collaborate with our company, we would be happy to welcome them," she said, adding that the tournament has been meant to benefit the animals since it began in 2001.
Update: This story has been updated to reflect a Diageo representative's clarification that it will continue to support Minor Group's elephant conservation projects.
Related Stories:
Elephant Polo to Continue Despite Abuse
8 Sponsors Drop Thai Elephant Polo: PETA