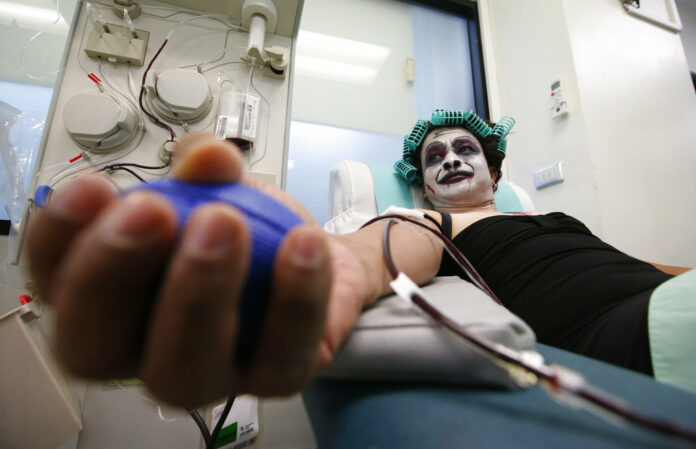 BANGKOK — Thailand's Red Cross Society may not measure its blood supplies by the bucket, but it knows how to throw a Halloween party.
Hoping that the annual gusto for gore would inspire donors, the society's National Blood Center had staff and volunteers dress up Wednesday as ghosts, monsters and witches. Even some donors dressed their hideous best.
The donation room was festooned with faux spider webs and plastic bats of the blood-sucking kind. At a minimum, nurses had horns or bat wings attached to their hats; others had macabre face paint, and a few gung-ho souls were in full dress as witches, ghosts and creatures of indeterminate monstrosity.
"The location has been decorated so donors can take photos to keep as souvenirs," explained a statement from the Red Cross. "Donors also received 'mummy blood' pens as mementos."
It wasn't actually blood-curdling scary; after all, that would have undermined the point of the occasion.
"Donors are pretty excited to see ghosts," said Wantana Boonyasiripong of Bangkok, who showed up to share a few corpuscles of her own. "It's kind of fun, making it a happy occasion for us to donate blood and make merit."
According to the center, about 14 percent of Bangkok's population donates blood, but some 40 percent of what is collected goes to areas outside of the capital, where the donation rate averages just 2.6 percent. The need for donated blood grows by 8-10 percent a year, the Red Cross said.
"The fact is you can donate blood any day," said Muanfun Bumroongton, a volunteer at the center who painted her face as pop culture villain The Joker. "We just thought that we could have extra fun today for those who come, making the day a bit more colorful."
Story: Tassanee Vejpongsa