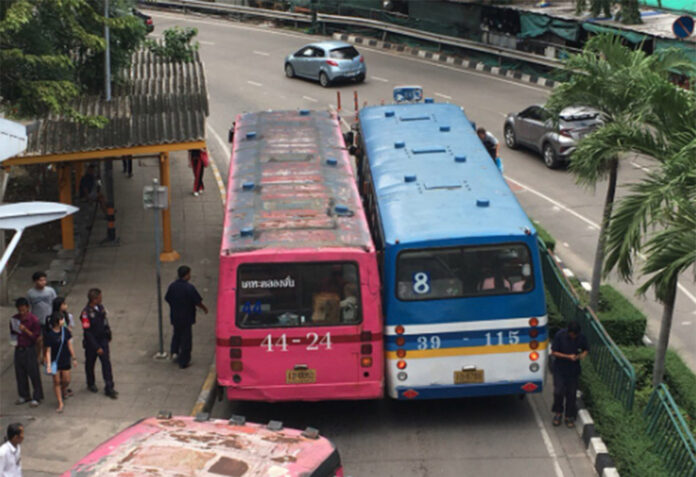 BANGKOK — The Transport Minister said Monday he would consider raising fares for private bus operators for the first time in nearly four years after he was met with a rally and strike threats.
More than 200 private bus operators representatives held a protest today in front of the ministry demanding fare hikes – 3 baht for unair-conditioned buses and 2 baht for air-conditioned buses. They were invited to meet with the minister, who later said he had ordered the Department of Land Transport to propose new rates as soon as possible.
Arkhom Termpittayapaisith said he agreed with raising fares as fuel prices and wages had increased in recent years. He said he could not promise if the increased rates will be the ones operators demanded, but that he would like to have them approved by Dec. 15.
"I've asked the operators to delay the fare raise until after New Year to reduce the impact to those traveling [during the holiday]," Arkhom said.
The rates the firms demanded would see fares in unair-conditioned buses increase from 9 baht to 12 baht, while starting prices in air-conditioned buses would be hiked from 13 baht to 15 baht with a 2-baht increase per distance bracket.
The private operators overseeing more than 4,300 buses servicing Bangkok said yesterday that they would hold a strike next month if the ministry rejects the fare raise. They accused authorities of breaking promise after promise and said they could no longer operate under current rates after years of waiting.
Private buses last had their fares raised in February 2015, while 2,600 state-operated buses haven't seen fare hikes since September 2011.
Witthaya Premjit, the operators' representative, said he was pleased with the outcome of today's meeting, and that they would be happy to hold the prices until after the new year. He said the new rates, if approved, could come into effect from Jan. 5.