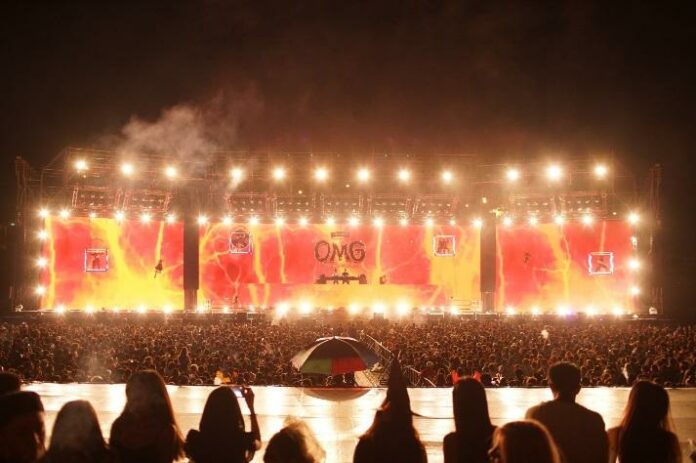 Smirnoff Midnight 100, a brand that stands for having fun to the max, provided a whole new experience for Thailand's partygoers with "Smirnoff Midnight 100 OMG – OH MYGHOST", Thailand's first biggest Halloween party. It was an impressive day of frights and great music from a glamorous line-up of internationally acclaimed DJs. "Smirnoff Midnight 100 OMG – OH MYGHOST" took place on the evening of October 27, 2018 at Live Park Rama 9.
For two decades Smirnoff has been active in promoting music culture by supporting artists and music festivals and forming collaborations with artists worldwide to create festivals of art and lifestyle. The brand aims to bring together like-minded individuals who share the same passions for and attitudes towards art and music for entertainment programs where they get to socialize, connect and have a good time together. These activities also offer everyone the opportunity to enjoy new experiences.
As a brand that promotes connection and freedom of expression, Smirnoff strives to create innovations for consumers through a variety of activities. On this occasion, Smirnoff Midnight 100 was once again mounting a Halloween party in Thailand titled "Smirnoff Midnight 100 Presents OMG – OH MY GHOST", that was packed with spookiness and fun, at Live Park Rama 9. The venue was transformed into a deserted amusement park that comes alive once again on the night of Halloween.
Upon arrival, partygoers were in for a range of bizarre, mysterious incidents and stories. Revelers would be delighted by a huge selection of drinks blended with Smirnoff Vodka including black-canned Midnight 100, a familiar drink with its special Halloween-themed packaging design to mark this occasion. Specially designed ice buckets from Smirnoff Midnight Max also provided added ambience. Partygoers also had fun with a string of entertaining activities including Halloween-style make-up and Shockphoto Booth Scare Challenge designed for fearless partygoers.
World-renowned DJs took to the stage pumping out tons of electronic dance music. These include R3hab, Ghastly, Breathe Carolina, SURA, and Miss KB. The promotion of the planned Halloween blowout has been a great success online with lots of fans posting their photos on social media with the hashtags #SmirnoffOMG #SmirnoffOhMyGhost #ปาร์ตี้ป๋องดำ และ #ป๋องดำ.
Smirnoff Midnight 100 made its debut in Thailand in 2015. Ever since, it has consistently met with a warm reception from Thai consumers as one of the drinks for festive occasions that everyone can enjoy.
Smirnoff commits to provide positive energies to consumers through quality fun-filled activities. Those with a passion for music and revelry are invited to take part in the Halloween party. The drink is ideal for every joyous occasion.
Diageo Moët Hennessy (Thailand) Ltd (DMHT) is the leading importer and distributor of premium wines and spirits in Thailand. Responsible corporate citizenship is a key element of DMHT's business philosophy.  DMHT strives to ensure its business and products appropriately balance the company's commitment to act responsibly and the right to trade freely.  This commitment is reflected in its corporate ethics and governance, relations with employees, customers, consumers, suppliers and communities, as well as health and safety policies and environmental policies. DMHT is committed to good corporate citizenship and responsible alcohol consumption. DMHT's global corporate citizenship report and Asia Pacific citizenship report can be found and downloaded atwww.diageo.com.
Diageo Moet Hennessy (Thailand) is the leading importer and distributor of world-leading premium alcohol products. You can visit www.DIAGEO.com for more info. Being part of good corporate governance, DMHT takes responsible drinking seriously.