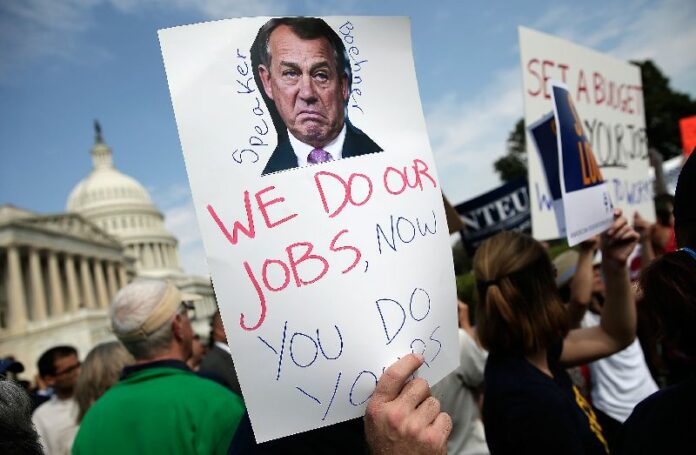 (5 October) Minister of Industry assured that the Thai economy will be "largely unaffected" by the ongoing US government shutdown crisis, despite Prime Minister Yingluck Shinawatra′s concern that the tolls may fall on Thai small and medium enterprises (SMEs).
Mr. Prasert Boonchaisuk claimed that "there are no worrisome circumstances at the moment," and that the crisis will not bog down Thai investment sector as some have feared.
Meanwhile, Director of the Office of Industrial Economics (OIE), Mr. Somchai Hanhiran, added that the US shutdown would only restrain short term consumption within the United States, which will not damage Thais industry and export sectors.
The OIE boss also pleaded for "calm" among the investors by noting that the US government shutdown had 'happened before', and the discussion about the US public debt ceiling is expected be concluded before 17 October.
The Federation of Thai Industries (FTI) President, Mr. Payungsak Chatsuthiphol, echoed the sentiment, saying that he has not receive any reports about exporters struggling to cope with the situation.
FTI President also expressed his belief that the US Congress should be able to solve the issue within three months.
However, Mr. Payungsak warned that the foundation of the US economy was not as strong as before, and that the warring US Representatives' attempt to prolong the decision would only worsen the American economic recovery.
Ms. Yingluck has previously urged the National Economic and Social Development Board (NESDB) and the Financial Ministry to closely monitor the situation in the US, after it had been reported that the Government Shutdown might stagnate American economy in the third quarter for 0.1 percent.
Prior to the shutdown, it was expected that the US economy would grows 2.5% it the last quarter (Q4). However, if the temporarily closure of one-third of the federal offices lasts longer than one week, the US economy might face at least 0.2-0.3% stagnation.
The Prime Minister said she feared Thai SMEs would be indirect victims of the American financial mayhem.
For comments, or corrections to this article please contact: [email protected]
You can also find Khaosod English on Twitter and Facebook
http://twitter.com/KhaosodEnglish
http://www.facebook.com/KhaosodEnglis