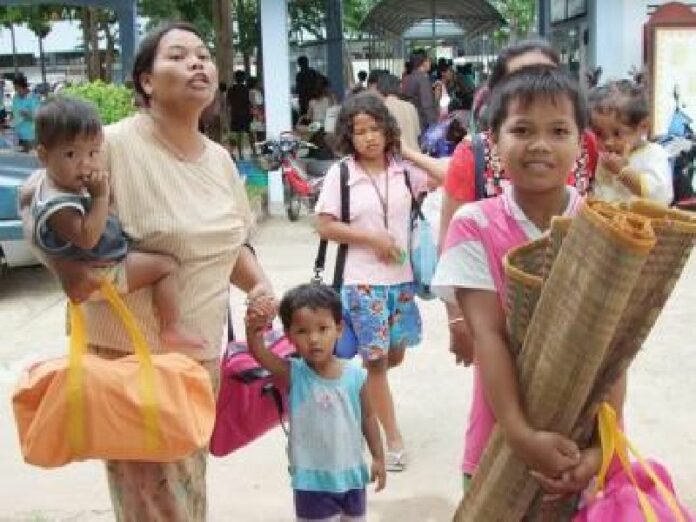 (3 November) Thailand-Cambodia border trades show no worries as the International Court of Justice set to announce its decision, regarding the border dispute between the two nations in two weeks.
The court rule from ICJ is planned to be announced on 11 November, after both countries claimed their rights on Preah Vihear temple.
In Surin province, Chong Jom border point in still operated as usual, said President of Surin's Chamber of Commerce, Mr. Kriangsak Palikupt.
The president also praised the government for having done well in creating good understanding. However, many business people remain cautious and keep close look at the situation.
Border Trade at Chong Jom border point worth approximately THB 6 million this year, slightly lowered 20-30% due to the border conflict and depressing global economy. Oil is, so far, the most famous product at the border and possesses 60% of the market share. Consuming products and building materials also gained fair share of the market at 20%.
In Sri Saket province, Mr. Siripong Ankasakulkiate, President of the province's Chamber of Commerce, said that the border trade at Sa-Ngam border point is still going lively, and show no signs of any changes despite coming decision from ICJ.
Mr. Siripong said he believes that the Thai security authorities should be able to manage the situation, unless anybody sneaked into the conflict area.
"Businesspeople in the province do not seem to worry about the situation at all", said the president of Sri Saket Chamber of Commerce, "Both countries also show no desire to close the border as it may affect businesses, particularly Casino in Cambodia."
Border Trade in Sa-Ngam border point grows 15-20% annually and worth approximately THB 1.5 billion per year. Top exports are Oil, which shares 40% of the market, building materials, 30%, consuming products, 20 and other items at 10%.
It is expected that the Sa-Ngam border trade should generate up to THB 2 billion in 2014.
For comments, or corrections to this article please contact: [email protected]
You can also find Khaosod English on Twitter and Facebook
http://twitter.com/KhaosodEnglish
http://www.facebook.com/KhaosodEnglish