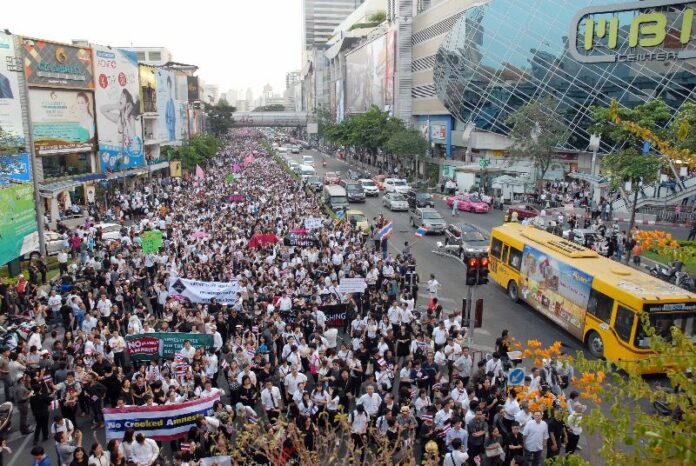 (6 November) Minister of Finance Kittirat Na Ranong said the ongoing protests against the amnesty bill are hurting Thailand′s economic growth in Q4.
The protests could also drive away potential foreign tourists just as Thailand enters its annual ?high season? in tourist business, according to Mr. Kittirat.
Mr. Kittirat, who also serves as Deputy Prime Minister, warned that "the investors start to question about the current political situation."
"We tried to explain to investors about the ideas of peace and forgiveness in the amnesty bill" Mr. Kittarat added, "I believed that if people resort to discussion about the dispute, they should be able to solve the conflict peacefully."
The Minister said he would like to ask every party to keep the nation's economic performance in mind, as trade, tourism and investment sectors will be greatly affected if the situation has been escalated.
However, he stated that there is no need for the government to come up with any new stimulant plan at the moment, but all relevant authorities have been instructed to improve the economy during this particularly difficult time nonetheless.
Meanwhile, Mr. Itsara Wongkusolkit, President of Thai Chamber of Commerce (TCC), revealed the results of the meeting between the Federation of Thai Industries, Thai Bankers Association and the Thai Chamber of Commerce that both three institutions had not yet concluded whether they would jointly stand against the proposed amnesty bill.
The TCC President added that the investors fear that if the situation worsened, the nation's economy might be severely affected. He also expressed his wishes to urge every related party to find the solution for the current political conflict as soon as possible.
On an optimistic note, Mr. Chai Sriwikrom, President of Ratchaprasong Square Trade Association, suggested that protest against the Amnesty Bill woudl affect tourism and consumption only in a short term.
For comments, or corrections to this article please contact: [email protected]
You can also find Khaosod English on Twitter and Facebook
http://twitter.com/KhaosodEnglish
http://www.facebook.com/KhaosodEnglish