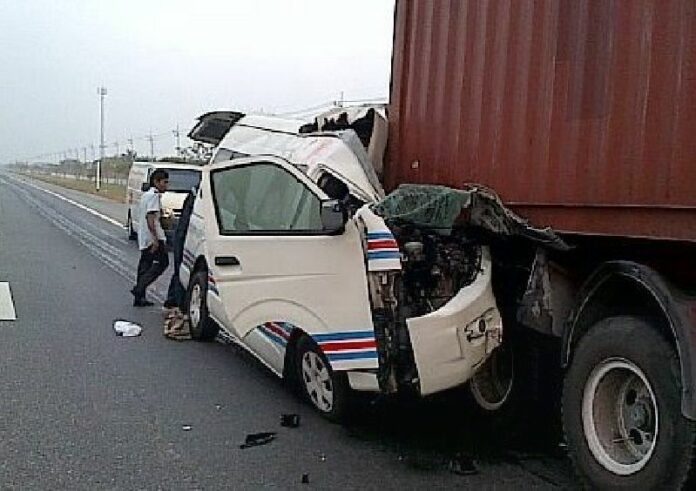 (5 November) Transport Minister Charchart Sittipan said he had instructed the authorities to urgently tighten the safety measures applied to public minivans, after he had personally discovered that much of the safety policies are blatantly ignored by the minivan drivers.
Mr. Chatchart said he had encountered such problems during his private minivan trips – the Minister is well-known for his preference to inspect various public transports such as buses, boats, and trains by riding one by himself.
According to the Minister, a number of minivans refused to comply with the safety standards issued by the Ministry of Transport. Reportedly, some of the vans did not equip any safety belts, fire extinguishers, and glass-breaking hammer in their cars.
Although some of the vehicles did equip the items, they did so in "inappropriate positions of the minivans", Mr. Chatchart said. He also complained that he had seen some vans illegally adding extra passenger seats.
Moreover, some vans operator did not ask their passengers to leave the vehicles when they refuel the gas, which is a very dangerous procedure, according to the Transport Minister.
Mr. Achsathai Rattanadilok Na Phuket, acting director-general of the Department of Land Transport, said that he had instructed the provincial authority to improve the safety policy.
According to the Director-General, the laws clearly states that minivans imported or manufactured after 1 April 2012 must be equipped with safety belts on every seat; as for minivan imported or manufactured before the date, the procedure must be applied by 1 January 2013.
"Every mini-van should have their seat equipped with safety belt by now", Mr. Achsathai said.
He added that the service providers must also warn their passengers to leave the vehicles during the refuel stops.
In case of minivans that had attached extra seats, legal prosecution will be pressed against the drivers and service operators, said the Director General.
Mr. Achsathai said that if any passengers have experienced minivans that do not comply by the safety procedure, they should call 1584 to inform the officials about the matter.
Accidents involving interprovincial minivans have killed and injured large number of passengers in recent years, and many drivers were discovered to have operated the vehicles without proper licenses or registration.
For comments, or corrections to this article please contact: [email protected]
You can also find Khaosod English on Twitter and Facebook
http://twitter.com/KhaosodEnglish
http://www.facebook.com/KhaosodEnglish