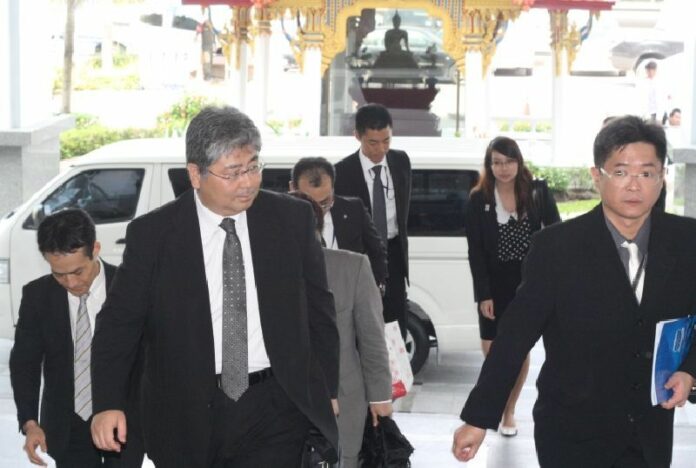 (5 November) A high ranking Japanese officer has expressed his concern that the ?amnesty-for-all? proposed by Pheu Thai Party might stall the investigation into the death of the Japanese reporter killed in 2010 crackdown.
Mr. Hiroyuki Muramoto, who worked as a cameraman for Reuters, was shot dead as he filmed the clashes between the soldiers and the Redshirts protesters near the Democracy Monument on 10 April 2010.
The circumstances of his death are under investigation by the court. While witnesses have told the court they saw soldiers discharging their weapons in the direction of Mr. Hiroyuki, the military and the government at the time blamed his death on the presence of the ?Blackshirts? armed militants who were also firing their weapons at the soldiers.
Earlier today, Mr. Nobuyuki Kawai, a senior member of the National Police Agency of Japan, has met with representatives of the Division of Special Investigation (DSI) in Bangkok to discuss the progress of the case. A group of Japanese police officials also accompanied Mr. Nobuyuki.
Speaking after the discussion at the DSI headquarters, Pol.Lt.Gen. Bantoon Chimkra said he had assured the Japanese officials that the DSI has been working very hard to shine the light on Mr. Hiroyuki′s death. It is the group′s eighth visit to Thailand to demand progress of the case, Pol.Lt.Gen Bantoon added.
"I told them the DSI is interviewing 20 witnesses per week," Pol.Lt.Gen. Bantoon said, "We have also interrogated hundreds of low-ranking soldiers".
However, the Japanese are intent on finding out who precisely shot Mr. Hiroyuki, the officer said. "We promise them that we will work on the case".
According to the DSI officer, Mr. Nobuyuki also voiced his worry that the ?blanket amnesty? would affect the court procedure of Mr. Hiroyuki′s death. "So DSI told them that the bill is under deliberation of the Parliament. We cannot give them any answer at the moment," Pol.Lt.Gen. Bantoon said.
10 more witnesses are scheduled to testify to the court concerning Mr. Hiroyuki′s death, Pol.Lt.Gen. Bantoon added.
For comments, or corrections to this article please contact: [email protected]
You can also find Khaosod English on Twitter and Facebook
http://twitter.com/KhaosodEnglish
http://www.facebook.com/KhaosodEnglish