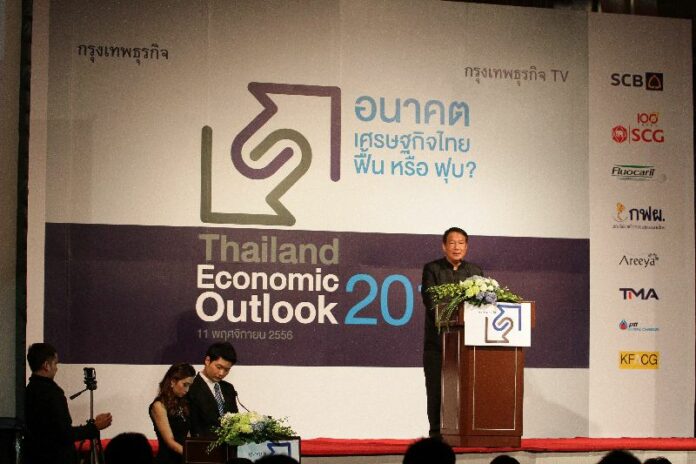 (12 November) Minister of Finance Kittirat Na Ranong expressed his confidence that the ongoing political crisis would only affect the economy in a short term, despite signs that the economic growth of Thailand is not as good as expected.
Mr. Kittirat was speaking to reporters after his speech at ?Thailand Economic Outlook 2014? event at Inter Continental Hotel yesterday.
He said the fourth-quarter growth is taking damage from the latest waves of protests against the government, which originally started as an opposition against the government′s pursuit of ?Blanket Amnesty? that would absolve former PM Thaksin Shinawatra of his corruption convictions, and later escalated into the call for the government to resign.
"I believe the crisis would only temporarily affect our economy", Mr. Kittirat told reporters, "We have discussed with every side and all agreed that the protesters have the rights to express their opinions in accordance with our democratic political system".
He voiced his expectation that there is a possibility of a better economic development in Q1 of the 2014 fiscal year, if the massive 2 trillion-baht infrastructure project is green-lit by the Senate.
"It depends on the Senate whether the 2 trillion-baht scheme would be approved" said Mr. Kittirat, "If so, large-scale government spending will be started in 2014, and gradually increase toward 2015."
The Finance Minister also claimed that the increased government spending should help boost the Thai economy in the coming years, while the recovering global economy would rescue Thai export sectors back to their prime stage.
For comments, or corrections to this article please contact: [email protected]
You can also find Khaosod English on Twitter and Facebook
http://twitter.com/KhaosodEnglish
http://www.facebook.com/KhaosodEnglish