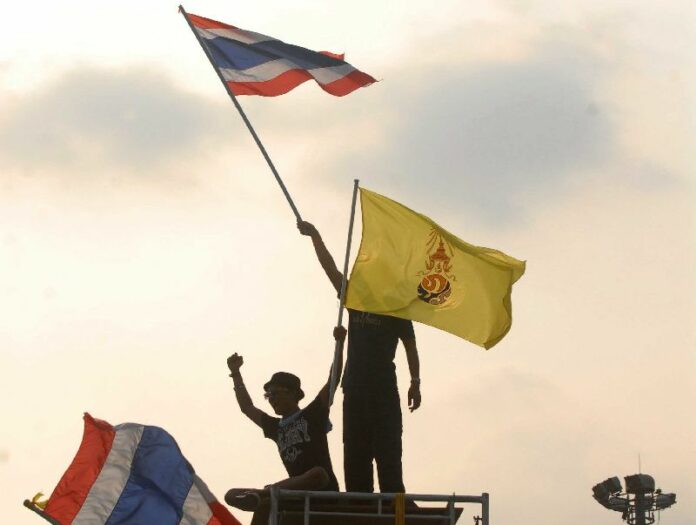 (12 November) Hardline royalist faction of the anti-government movements has called for the monarchy to intervene against the government of Prime Minister Yingluck Shinawatra.
The People′s Democratic Force For Overthrow of Thaksinism (Pefot) has led around 3,000 protesters on a march this morning from their protest camps at Ratchadamnoen Avenue to the Grand Palace in order to submit a petition to His Majesty the King, asking for his endorsement for the ?People′s Council? to pressure the government into giving up its power.
The protesters have previously called for a ?People′s Council? and the ?People′s Court? to be established as a force to hold the government accountable for its alleged abuse of power.
The march to the Grand Palace was led by Mr. Chamlong Srimueang, a prominent activist known for his role in co-founding the (now defunct) People′s Alliance of Democracy (PAD), which was known as the Yellowshirts. Mr. Chamlong was accompanied by several retired army generals who are serving as Pefot leaders.
At 10.30 the protesters reached the Grand Palace′s Viset Chaisri Gate, where a number of Pefot leaders were allowed to submit their petition to officials on behalf of the Royal Household inside the Grand Palace.
Yesterday, another leading figure of the Yellowshirts, Mr. Sondhi Limthongkul, also demanded that the politicians "give back power" to His Majesty the King, effectively calling for the King to appoint a transitional government while electoral democracy is "suspended for 2-3 years".
Speaking at Baan Prathit, the headquarters of the disbanded PAD, Mr. Sondhi added that "Western democracy" no longer works for Thailand.
Known for their overt royalist sentiment and skepticism toward electoral democracy, the Yellowshirts have accused former PM Thaksin Shinawatra and his political clique of harbouring anti-monarchy plots.
In 2006, Mr. Sondhi and Mr. Chamlong also campaigned for the invocation of Article 7 of the Thai Constitution, which supposedly allowed for His Majesty the King to employ his royal power in ousting Mr. Thaksin, who was Prime Minister at the time, and appoint a new Prime Minister at his royal discretion.
His Majesty the King himself rejected the proposal in a rare television address that same year, explaining that a royal intervention would not be democratic.
For comments, or corrections to this article please contact: [email protected]
You can also find Khaosod English on Twitter and Facebook
http://twitter.com/KhaosodEnglish
http://www.facebook.com/KhaosodEnglish