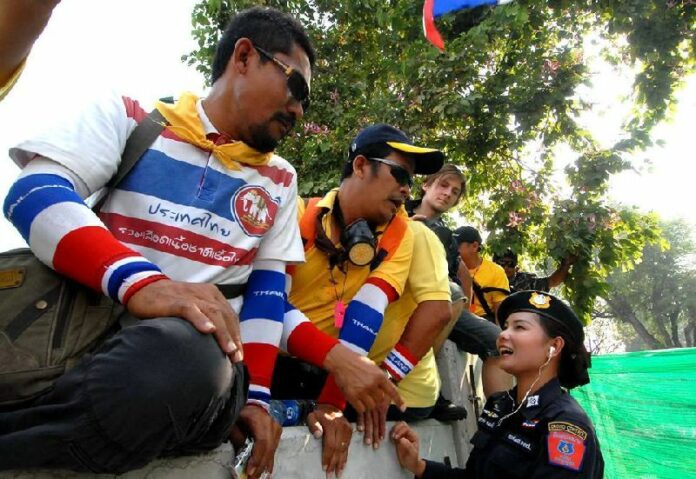 (13 February) Prime Minister Yingluck Shinawatra has instructed the government to woo foreign tourists amid the ongoing political crisis in Thailand.
In a meeting with officials from the Ministry of Tourism and Sports today, Ms. Yingluck acknowledged that the Thai tourism business has been gravely affected by the anti-government protests which seek to oust Ms. Yingluck and her government in favour of an unelected "People′s Council".
In order to remedy the situation, Ms. Yingluck urged the Ministry to help the tourism enterprises via several schemes, such as developing the existing tourist attraction, creating new attractions, and devising a plan for administration of special tourism zones in historical attractions and UNESCO World Heritage sites.
Furthermore, the authorities should develop 'one-stop service' point in the country's airports to facilitate incoming tourists, the Prime Minister told the meeting.
She also assured the officials that budget for the Ministry of Tourism and Sports remains unaffected by the political turmoil, adding that the Ministry actually spent less fund in previous months, as many events and tourism promotion campaign have been cancelled due to the protests.
Following the meeting with Ms. Yingluck, the Minister of Tourism and Sports, Mr. Somsak Phurisrisak, told the press that overall tourist number is still in good level this year so far, in spite of the protests in Bangkok.
According to Mr. Somsak, the decrease in tourist number only occurred in Bangkok, while other parts of Thailand are still popular among foreign visitors.
Nevertheless, Mr. Somsak admitted that many nations are suffering "shockwave effect" after the Thai government declared the State of Emergency in Bangkok last month. Many countries have advised their citizens to avoid travels to Thailand as a result, he noted.
"Foreigners are frightened," the Minister said.
He added that the loss in the industry should remain at a low level of nearly 2.2 million baht, and could be recovered soon in this year Q3 – Q4, as the Ministry is seeking new markets to redeem the loss.
Moreover, the Tourism and Sports Minister expressed his belief that number of tourists from Asian countries, including China, Japan and Russia could rebound easily.
"The Ministry does not plan to change this year′s target. We are simply revising our marketing strategies", stated Mr. Somsak, adding that he has suggested to Ms. Yingluck that Thailand needs to reinforce its laws enforcement and protection of foreign tourists in order to create trust among visitors.
Ms. Yingluck has advised the Ministry of Tourism and Sports to urgently discuss the matter with the police, Mr. Somsak said.
For comments, or corrections to this article please contact: [email protected]
You can also find Khaosod English on Twitter and Facebook
http://twitter.com/KhaosodEnglish
http://www.facebook.com/KhaosodEnglish