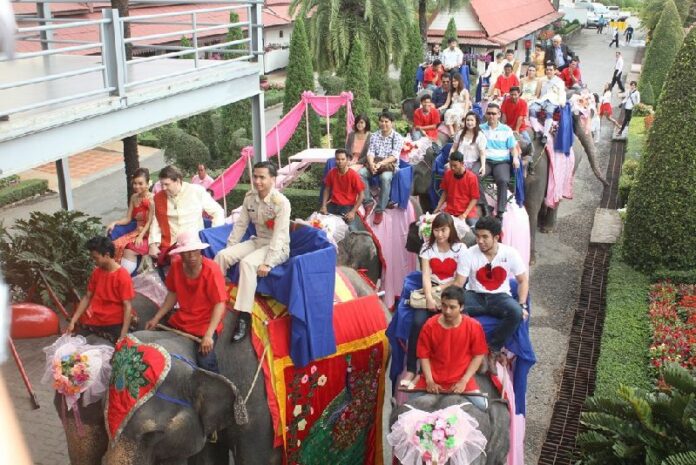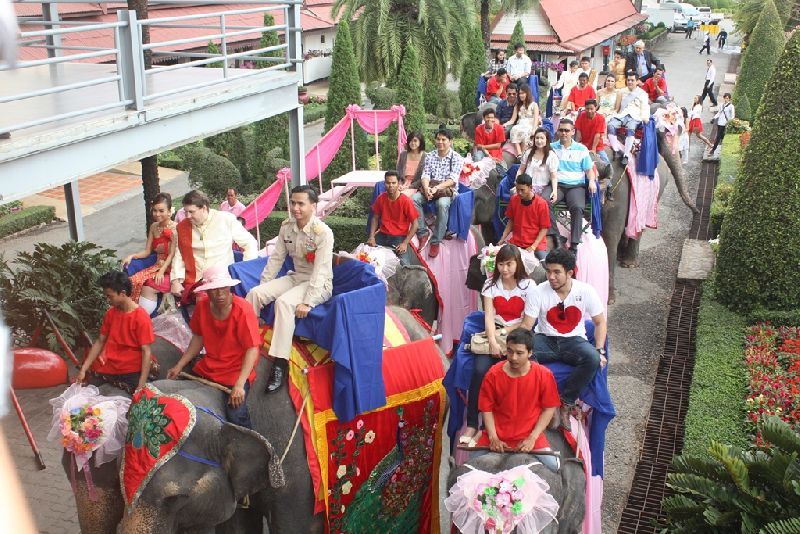 (16 February) A ladyboy and a tomboy tie the knot – legally – along with 58 other heterosexual couples from around the world at a garden near Pattaya.
The event, themed ′Wedding On Elephants′, was held at the privately-owned Nong Nooch tropical botanical garden in Chonburi province on Valentine Day last week.
Elephants carried the 59 couples who took part in the event through the botanical garden to Sattahip district director, Mr. Pawat Lertmukda, and marriage registration officers, who signed their marriage certificates. Their marriage was also witnessed by Mr. Manij Nirint-rak, Nong Nooch Garden General Manager.
The rock garden where the wedding took place was arranged in shapes of 20 hearts, which the park managers boast to be "the most beautiful garden in Southeast Asia".
After the ceremony, the couples were encouraged to take pictures in the garden, explore the garden, watch live performances, and dine in a high-end restaurant in the park for free.
Mr. Pawat, the district director of Sattahip, said many couples – both Thai and foreign – queued up at the district office every year on 14 February to have their marriage official registered. Therefore, he said, the district decided to cooperate with Nong Nooch Garden to organise the registration in a pompous ceremony at the garden.
"We want to impress the couples," Mr. Pawat said.
One couple who stood out among the lovers of the day were Mr. Karom Prommala, 26, who identified herself as a ladyboy, and her partner, Ms. Ekmaneekan Pitwong, 21, who called himself a tomboy.
Mr. Karom and Ms. Ekmaneekan said they joined the mass wedding to celebrate their relationship, which was built "with love and bonding".
Although Thai society is relatively tolerant toward same-sex couples, same-sex marriage is not legally sanctioned under the Thai laws. But the marriage of Mr. Karom and Ms. Ekmaneekan was easily registered at Nong Nooch Garden on Thursday, since officials said the lovers retain their birthday statuses as male and female, respectively.
For comments, or corrections to this article please contact: [email protected]
You can also find Khaosod English on Twitter and Facebook
http://twitter.com/KhaosodEnglish
http://www.facebook.com/KhaosodEnglish