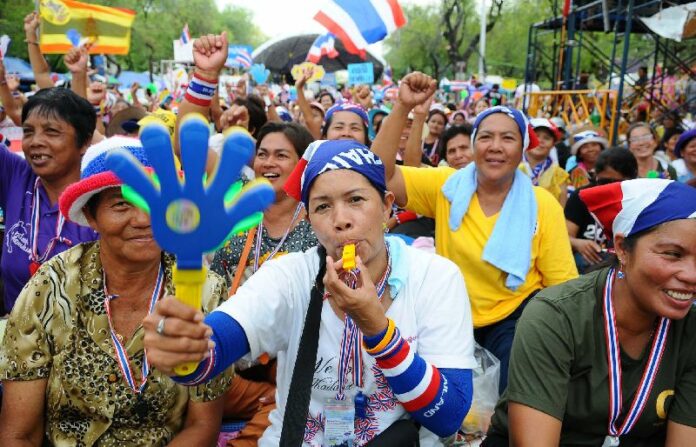 BANGKOK — Thailand is seeing the smallest growth in tourist numbers in five years as a result of the country's prolonged political crisis, says the Tourism Authority of Thailand (TAT).
Only 26.3 million tourists are expected to arrive in Thailand in 2014, a 6.2% decrease from the initial projection of 28 million tourists estimated by the TAT earlier this year, said Sukree Sitthiwanich, a deputy director of the TAT's marketing and communications department.
This marks the lowest drop in tourist growth since 2008, when similar groups of anti-government demonstrators seized Bangkok's two main airports amid widespread political instability.
Thailand is projected to reap 1.24 trillion baht in tourism revenues this year, which is a 3% growth from the revenues collected last year. The TAT was hoping 2014 would see a 5% growth in tourist revenue, Mr. Sukree said.
The number of arriving tourists decreased by 4.91% between the months of January – April, Mr. Sukree said. Although tourists from Western Europe and the United States rose by a slight margin, Thailand saw fewer visitors from China, South Korea, Taiwan, Japan, and other regions such as South Asia and ASEAN countries, Mr. Sukree added.
Mr. Sukree said that the TAT will have to revise the projected number of visitors for this year again in the future, citing possible fallouts on tourism caused by the recent earthquake in Chiang Rai province and the renewal of insurgency-related violence in the southern border provinces. Many Chinese and Malaysian tourists have been deterred from visiting Thailand by the two incidents, according to Mr. Sukree.
"However, despite the falling number in tourists, activities and promotion campaigns by TAT will continue," Mr. Sukree said. "They cannot stop, because if they do, it will certainly have impact on tourists' confidence."
For comments, or corrections to this article please contact: [email protected]
You can also find Khaosod English on Twitter and Facebook
http://twitter.com/KhaosodEnglish
http://www.facebook.com/KhaosodEnglish