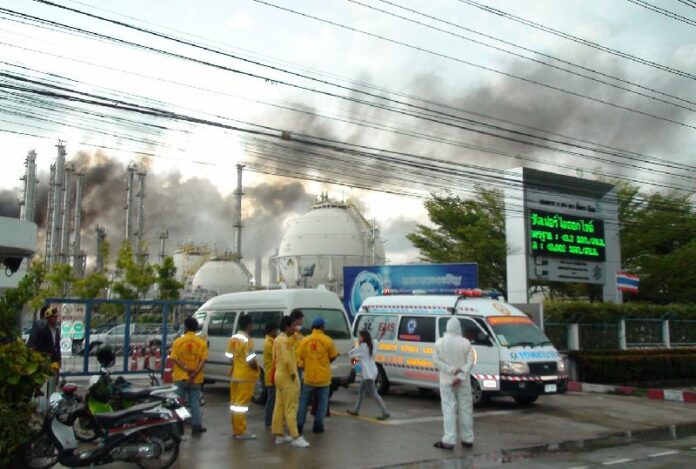 RAYONG — Thailand's state petroleum enterprise apologised for leaking chemicals near a residential area in eastern Thailand – a year after an oil leak from the company's pipeline devastated an island in the same region.
"We would like to apologise for the incident," said Anuthin Chuaipen, deputy manager of PTT Global Chemical, in reference to the chemical leak that occurred inside Map Ta Phut Industrial Estate in Rayong province over the weekend. PTT Global Chemical is a subsidiary of the state-owned PTT.
Residents close to the industrial park reported a "sulfur-like" smell in the area on 8 September, which many said irritated their nostrils and caused them to feel dizzy. The fume dissipated after a few hours, residents said.
Today, Mr. Anuthin admitted the smell was caused by an error during an operation to connect crude oil pipelines at a PTT station inside the industrial estate. The leak lasted for "15 minutes" before workers successfully resolved the issue, Mr. Anuthin said.
"PTT has dispatched safety and environment officials to the area to listen to those who were affected and provide assistance to them," Mr. Anuthin told reporters.
However, a number of residents said they would like to see stricter safety measures imposed over the industrial estate, which has been a source of environmental concern for years.
At least 65 industrial projects have been based in Map Ta Phut Estate since the park was founded in 1990. Numerous cheimcal leaks and contaminations have reportedly caused illnesses, including cancer, among residents in the region.
PTT Global Chemical is also currently embroiled in lawsuits over an oil leak from a PTT pipeline in the Gulf of Thailand in July 2013. The leak devastated some of Koh Samet's pristine beaches and deterred many tourists from visiting the popular island.
Critics have accused PTT of using its influence over Thai media to minimise news coverage of the oil leak and the company's refusal to compensate business owners on the island.
Read more:
State Petroleum Enterprise Sued For Resort Island Oil Spill