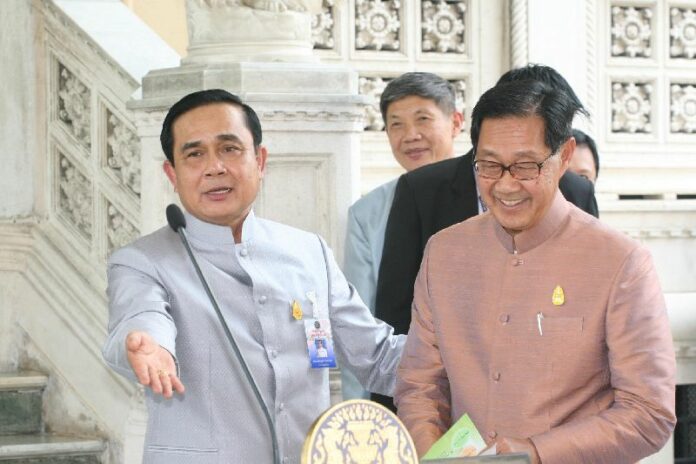 BANGKOK — Thailand's deputy Prime Minister is pushing back against accusations that the government's one-time cash handout to farmers across the country resembles the "populist" policies pursued by the deposed government.
"This is not populism, because I am not doing it for votes," Pridiyathorn Devakula said. "I only want to stimulate the economy. Do you accept that right now that the economy is suffering a slowdown? If we don't stimulate it this way, what are we supposed to do?"
Pridiyathorn was referring to the military government's decision to pay rice farmers who own 15 rai of land or less 1,000 baht for each rai. The measure is part of a 364.5-billion-baht stimulus package approved on Wednesday aimed at rebooting an economy beleaguered by months of political unrest.
A number of media agencies and critics have accused Pridiyathorn of imitating the former government's "populist" policies, which the military junta has vowed to replace with sustainable, un-corrupt measures.
The former government toppled in the 22 May coup has been widely criticised for its rice-pledging policy, which bought paddies from farmers at above the market price. The program incurred signficiant financial losses and was allegedly plagued with corruption.
At the press conference today, Pridiyathorn explained that it takes "42-45 days" to create a job, while a quick cash payment will allow farmers to spend money instantly. He also stressed that only genuinely poor farmers will be eligible for the payment.
"We want the low-earning farmers to have more income, because when you stimulate an economy, you have to direct it at the population who earns the least," the deputy Prime Minister said.
When a reporter asked whether he feels the 1,000 baht-per-rai rate is high enough to elevate farmers from their poverty, Pridiyathorn said the rate is appropriate because it represents more than 10 percent of the income they earn for each harvest haul.
"We cannot dump taxpayer money at any particular spot," Pridiyathorn said, "I admit that many people would have liked the government to pay more. But we are the intermediary manager of taxpayers' money, so we have to strike an appropriate balance."