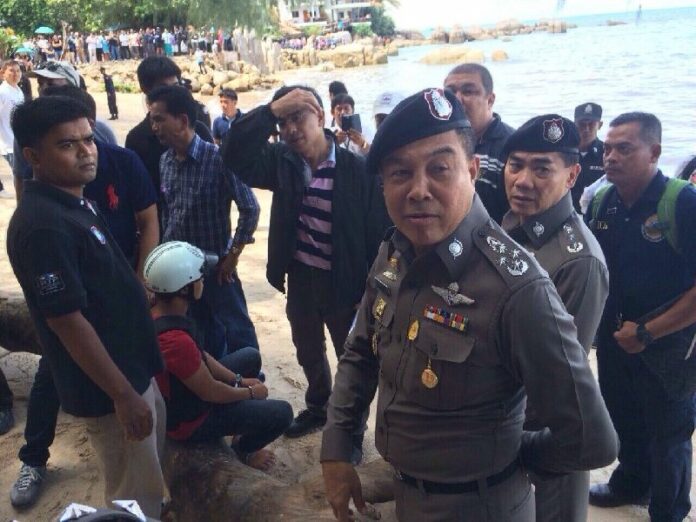 SURAT THANI — Police say DNA tests reveal that two Burmese migrant workers were responsible for the murder of two British backpackers in southern Thailand nearly three weeks ago.
"Tests show that DNA samples of the two Burmese matched the DNA [traces] collected by the police," Pol.Gen. Somyot Pumphanmuang told reporters before he boarded a helicopter to Koh Tao island this morning.
British tourists David Miller, 24, and Hannah Witheride, 23, were found bludgeoned to death on one of Koh Tao's beaches in the early morning of 15 September.
An autopsy determined that Witheridge was likely raped by two perpetrators. The DNA traces found on her body have been the key evidence in the police inquiry.
"The two [DNA] samples matched the semen found in the deceased," said Pol.Maj.Gen. Manu Mekmok, commander of Office of Police Forensic Science. He said the DNA test results were finalised at around 8 am this morning.
Police say the two Burmese migrant workers, identified by police as Win and Saw, confessed to the crimes yesterday.
In addition to the men's matching DNA results, police have also uncovered CCTV footage that implicates the suspects in the crime, Pol.Gen. Somyot said.
According to the police chief, officers found Witheridge's missing mobile phone during a raid on Win's residence.
Another Burmese migrant worker who was detained by police alongside Win and Saw was proven unrelated to the murder, Pol.Gen. Somyot told reporters. It is unclear whether he is still in police custody.
Pol.Gen. Somyot defended the police's 3-week investigation, claiming that it takes a long time to collect and analyse evidence.
"There are 366 CCTVs on Koh Tao," Pol.Gen. Somyot said, "Each camera took 6-10 hours for experts to investigate."
The Samet Provincial Court has formally approved arrest warrants for Sor and Win, who have been charged with premeditated murder, sexual assault that lead to death, and nighttime theft. The maximum penalty for the two former charges is death sentence.
Police officers involved in the interrogation claimed Win used a garden hoe to murder Miller, then sexually assaulted Witheridge with Saw. The two men allegedly killed Witheridge after and fled the scene.
According to police officers, the pair was drinking alcohol and playing guitar when they spotted Miller and Witheridge on the beach. The two men then became "aroused" and decided to commit the crime, police say.
Win and Saw were escorted by over 100 police officers to "re-enact" the alleged rape and murder at the crime scene on Koh Tao.
In the past three weeks, Thai police have come under heavy pressure to find the culprits behind the grisly murder of Miller and Witheridge, with authorities expressing concern that the incident could further damage Thailand's beleaguered tourist industry.
The investigation has also been criticised internationally for its unprofessional nature; the crime scene was not properly sealed off in the wake of the murder, and police have given a series of contradicting and unsubstantiated statements to the press. Prime Minister Prayuth Chan-ocha was also forced to apologise after suggesting that foreign women cannot expect to be safe while wearing bikinis in Thailand, "unless they are not beautiful."
For comments, or corrections to this article please contact: [email protected]
You can also find Khaosod English on Twitter and Facebook
http://twitter.com/KhaosodEnglish
http://www.facebook.com/KhaosodEnglish