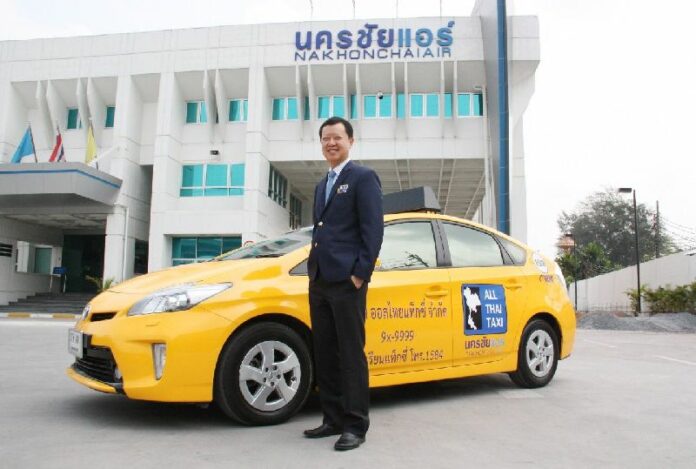 BANGKOK — A new high-end taxi service is set to launch in Bangkok this May in an effort to address persistent complaints about cab drivers who reject passengers or refuse to use meters.
The service, dubbed "All Thai Taxi," is a collaboration between the private inter-provincial bus company Nakhonchai Air and the Department of Land Transport (DLT).
According to Teerapong Rodprosert, director-general of the DLT, the taxis will be equipped with a series of new features aimed at improving passenger safety, including GPS systems that can be monitored by the DLT, a 'black box' to record the driver's behavior, and an emergency warning button for passengers.
The driver will also have to pass breathalyzer test and verify his or her identity through a scanning system.
The fare will be calculated by the standard taxi meter plus a 20-baht surcharge, and can be paid with an ATM card.
Anan Wongbenjarat, board chairman of Nakhonchai Air Co, said the first fleet of 500 of Hybrid Toyota Priuses will hit the roads in April, with the full service set to launch in May.
"The luxury sedan brand is employed to create a sense of pride among the customer, while the hybrid vehicle also saves energy and is environmental friendly," Anan said.
Customers will be able to hail the taxis by using a mobile phone app, dialing the company's 24-hour hotline, or hailing an available car on the street. The cars have been promised to arrive within 5-10 minutes after receiving a booking confirmation.
Nakhonchai Air is also working with DLT to include a 'lady taxi service' that will give female passengers the option to request a female driver.
The service will compete with international app-based taxi services like Uber, which Thai authorities deemed illegal last year because the vehicles were not registered in accordance with state regulations.