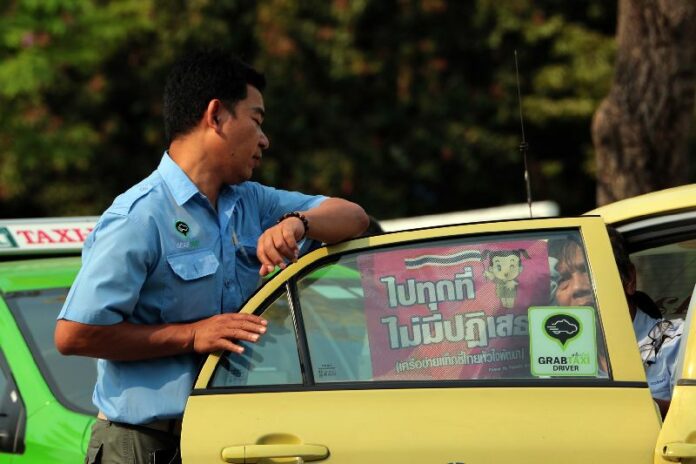 BANGKOK – The Thai military junta's security unit organized a ceremony today in which more than 100 taxi drivers pledged to accept passengers regardless of their nationalities or intended destinations.
Lt.Gen. Kampanart Ruddith, commander of the Armed Forces for Maintaining Peace and Order (AFMPO), presided over the event at an army headquarters in Bangkok.
As an evidence of their oath, taxi drivers placed stickers that said "Go Anywhere, No Rejection," on the windows of their cars.

Taxi drivers holding their ""Go Anywhere, No Rejection" signs, 13 March 2015.
Bangkok taxi drivers are notorious for refusing passengers, either because their destinations are "too far" or because the passengers demand using a fare meter. Many Thais say it is difficult to hail taxis in downtown Bangkok because drivers prefer to pick up foreign tourists who may be duped into paying a higher fare.
Lt.Gen. Kampanart said that today's campaign will expand to include other taxi drivers in Bangkok. He said the AFMPO, which is the security wing of the military junta that seized power on 22 May 2014, has been working closely with agencies such as the Department of Land Transport and Ministry of Transport to solve issues related to taxi service over the past year.
The campaign does not only urge taxi drivers to accept all passengers, but also to dress neatly, regularly check their vehicles, and be polite, Lt.Gen. Kampanart told reporters.
"Overall, the majority of taxis cooperate with us. There's only a minority that don't understand, so it has led to problems and complaints. Therefore, we organized lectures and courses about taxi services, which are jointly overseen by the AFMPO, the Department of Land Transport, and the taxi federation," said Lt.Gen. Kampanart.
"For Thais and foreigners, taxis are the face of this country," the lieutenant general continued. "The quality of taxis are one of the indicators of civilized countries."
Last month, the Department of Land Transport released a mobile phone app that allows passengers to rate the service of taxi drivers and file complaints.
According to Lt.Gen. Kampanart, the AFMPO is also working to improve the safety and quality of public vans, motorcycle taxis, and buses.
Since staging seizing power on 22 May 2014, the junta has regularly dispatched soldiers to assist police in law enforcement duties such as regulating public transportation systems, carrying out raids and arrests, and detaining suspects for interrogation.
Related Coverage:
Thai Govt Releases Taxi Rating App
Taxi Association Condemns 'No Japanese Passengers' Sign
New BKK Taxi Service to Stress Passenger Safety