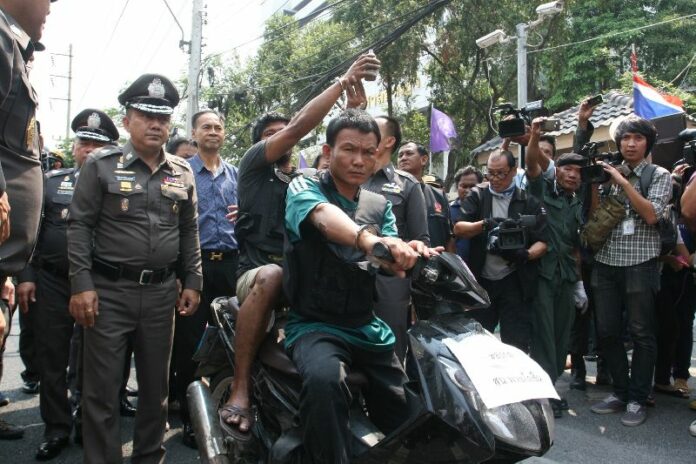 BANGKOK — Military officers have arrested a 49-year-old woman they say engineered the grenade attack on the Criminal Court in Bangkok last Saturday.
Supaporn Mit-arak, aka "Dear," was arrested by a military unit in the northeastern province of Mukdahan on the night of 12 March, according to police. She is reportedly being held at an army barrack for interrogation under martial law, which allows the military to detain individuals without charges for up to seven days.
According to military officers, one of the suspects arrested last week said Supaporn paid him 20,000 baht to lob a grenade at the court house's parking lot on 7 March. The attack, which did not cause any injuries, was an attempt to create chaos and "draw an intervention" from the United Nations, the suspect reportedly told the military.
Military officers said a chat log in the suspect's phone further implicated Supaporn in the incident.
"I will pay you, but you have to bomb first," Supaporn allegedly wrote to Mahahin Khunthong in a chat message, according to the screenshot (right) provided by the military. "I will also give you 300 baht extra for the gas. You decide, my dear brother. I will say no more."
At least 5 suspects, including Supaporn, have been arrested in connection with the bombing. The four suspects arrested last week were transferred to police custody today.
Pol.Lt.Gen. Sriwarah Rangsiphramanakul, commander of Metropolitan Police Bureau, said Supaporn has a pending civil lawsuit filed against her, but no previous criminal record.
He also said Supaporn is "connected" to a network of Thais living abroad who regularly defame the Thai monarchy on the internet, including "Anek San Francisco," a YouTube user who has posted a series of videos that criticize the Thai Royal Family.
Pol.Lt.Gen. Sriwarah said further investigation is needed to determine whether Supaporn is connected to the bombing at Siam Paragon shopping mall on 2 February.
"We have to remain vigilant, because there are still people who want to challenge state power," Pol.Lt.Gen. Sriwarah said. "But we do not know if they are related to the aforementioned incident. In that case, the perpetrator was paid only 20,000 baht, but it caused much damage to the state."
The officer added, "This is about state power and dark power. I insist that we will maintain security for the people, so that they can live in peace."