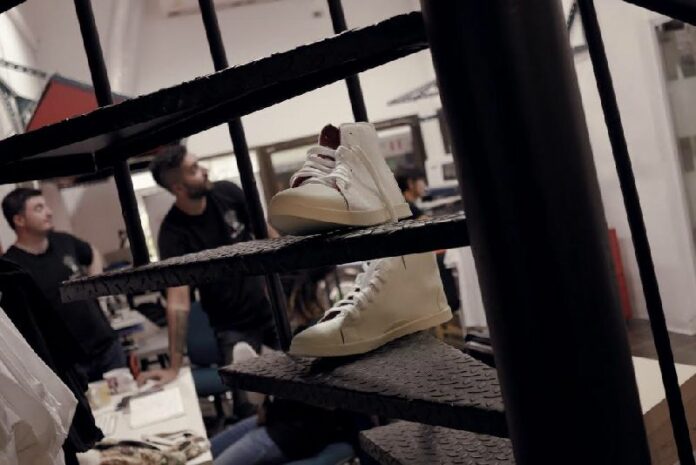 BANGKOK — A pair of sneakers with a yellow rubber duck print stands on a table. It looks like just another cute pair of shoes, but the artist designed it as a unique remembrance of his mother who played with rubber ducks with him as a kid.
Kraftka, a new sneaker brand with a production base in Thailand, is a community of artists from around the world. Sunny Sachdev, co- founder of Kraftka said it's not only for artists, but for anybody who wants to create something.
"Kraftka is the coming together of creative people to create a brand that goes against mass production," Sunny said. Besides the rubber duck sneakers, there are more designs in store with a story behind them.
On my visit to their production house, Kraftka (the name comes from the word 'craft'), Neill Myers, the other co- founder, greeted me wearing mismatched black board- colored shoes with smiley drawings that appeared to be painted by a kindergartener.
Designs and Designers
Around fifty artists, both professional and amateurs have already put their designs up on the website. The designs are varied  – from computerized graphics to natural scenery, pop art, comic graphics, there's something to suit any sneakerhead.
Popular Thai satirical cartoonist, Tripuck Supawattana known as "Puck," also contributed two psychedelic creations to Krafta, the "Monster Puck" and "Red Devil," designs.
One designer from Ukraine, Artem Fedin, calls his shoes "Crazy Jack" writing in his bio, "Jack has become mad and tries to kill his wife. Save Jack's wife. Wear those shoes." You can also put your brand logo on the shoes. The Chinatown bar, "Let the Boy Die", recently did just that.
Although the artists get to keep the rights and also get USD$10 (360 baht) for each pair of sneakers sold, they said they're not doing it for the money, just because they get a kick out of doing something they like.
Laurie Osborne, a copywriter from the United Kingdom, was motivated to join Kraftka after being bored by the choice of mass-produced 80s and 90s sneakers found in specialized sneaker shops.
He also said that it has been hard finding big shoes (he takes a size 13) and Kraftka covers that base.
Asked if he was afraid of people copying his work, he said it's hard to steal it as the designs are only 3 to 4 megabytes. His design was inspired by his love of television.
A Sneaker designed by Laurie Osborne
Another artist, Chris Anyma, an Italian illustrator who has been living in Thailand for 9 years, said that he quit his full-time job to pursue his passion. "[I am bored of] letting other people use my work and make money for themselves," he said. His design, is called "Big Daddy."
"Big Daddy" sneakers by Chris Anyma
Pooja Kishnani, an Indian woman raised in Thailand , had been working for a non-profit organization, but she has become more involved in photography and the arts recently. So much so, that she's decided to quit her job soon. Her shoe design is called Dr Robot Ninja.
Both Kishnani and Osborne weren't motivated to join Kraftka to get rich." [When someone wants to wear your design], it is the best compliment you can get," Kishnani said. Osborne echoes this sentiment, saying that anyone would be flattered to have their artwork on shoes that people would actually wear. Anyma said that he enjoys making art and Kraftka gives him a chance to play with his passion.
Cost of Creation
But creating this company doesn't come cheap. So Kraftka is using Indiegogo to raise funding for the project. Kraftka raised  USD$3,615 (130,500 baht) in nine days, with 37 days left (at the time of writing) to reach their goal of raising USD $15,000 (541, 000 baht).
Recently another sneaker company, the New York-based Shiftwear,  raised $USD 823,494 ( 30 million baht ) on  Indiegogo. They sell sneakers that can be designed using a smartphone app. But Kraftka says it isn't afraid of competition or artists working with a rival.
"One of our successes would be if we propel them [the artists] to international stardom and open more opportunities for them," Sachdev said.
Hoping to gather a community of artists, Kraftka will also be opening events where customers can meet with the artists, who will showcase their wares.
Kraftka sneakers cost USD $89 (3,200 baht) per pair.
All sneakers are made in China, printed in Thailand, and designed by artists from around the world.
For more information see the Kraftka Facebook page.