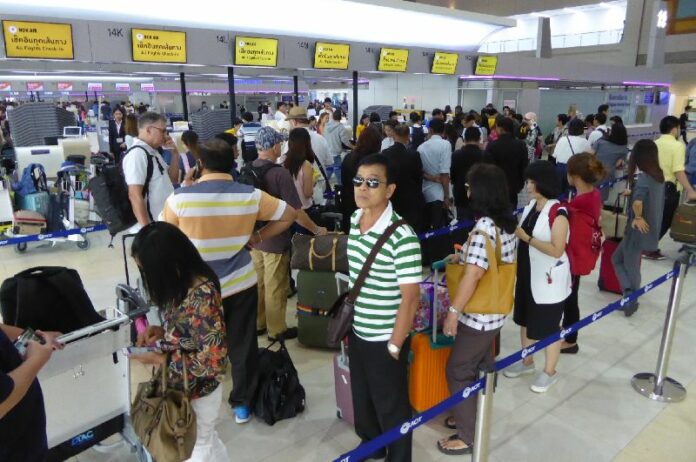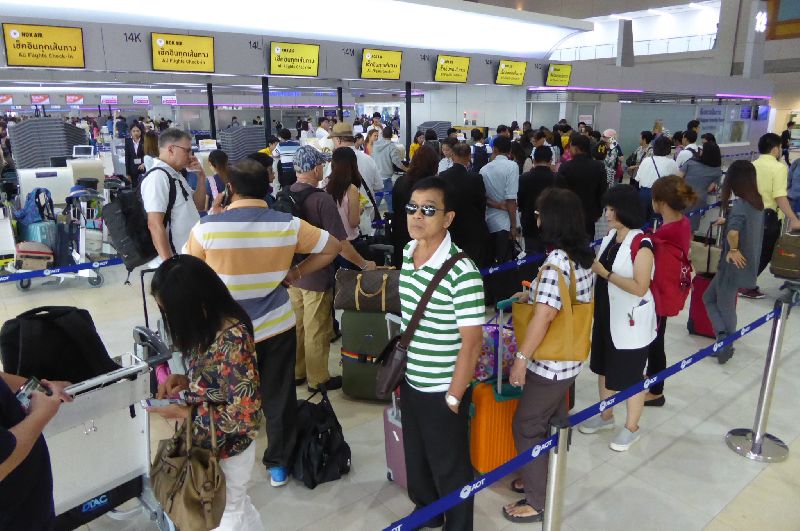 BANGKOK — A Nok Air official was fired and two others suspended last night following a pilot strike which left more than 1,500 passengers stranded.
Sanit Kongpetch, a pilot and the airline's manager of flight standards, was fired without severance or compensation for an unspecified "offense against the company", according to an announcement from the budget carrier, which has blamed its pilots for the debilitating work stoppage that left hundreds of travelers stranded at Don Mueang Airport and elsewhere.
Two other unidentified employees were suspended for eight days beginning Monday through Feb. 23, while seven others face an inquiry, according to the document signed by Nok Air CEO Patee Sarasin.
The airline contends the strike began after a number of pilots Friday failed to pass a new assessment made to bring the airline in line with international safety standards. In December, the International Air Transport Association downgraded the safety rating of Thailand's civil aviation.
The pilots dispute that, saying it had nothing to do with the recent downgrade of Thai civil aviation by international monitors. Speaking anonymously to the media, a Nok Air pilot Tuesday morning rejected that explanation, saying it was about internal company issues.
Sanit, the fired official, said Tuesday he was fired for canceling the flights.
"I arrived at the airport yesterday, but as the captain and flight standard manager, I found many pilots sick and stressed, which I thought could affect flight safety," Sanit said. "So I told the flight division to cancel flights. I went back home and found myself fired without any inquiry."
He denied it was a strike.
"If pilots did strike, we would have cancelled 120 flights, not nine," he said, adding that Nok recently lost many pilots to other airlines.
Nok Air is the budget airline of struggling national carrier Thai Airways International.
Nok CEO Patee couldn't be reached for comment. He tweeted Monday afternoon that he would not speak to the media until the company finalizes a plan to address the problem, possibly by Thursday.

.
Related stories
Nok Air to Compensate Passengers After Strike Leaves Hundreds Stranded