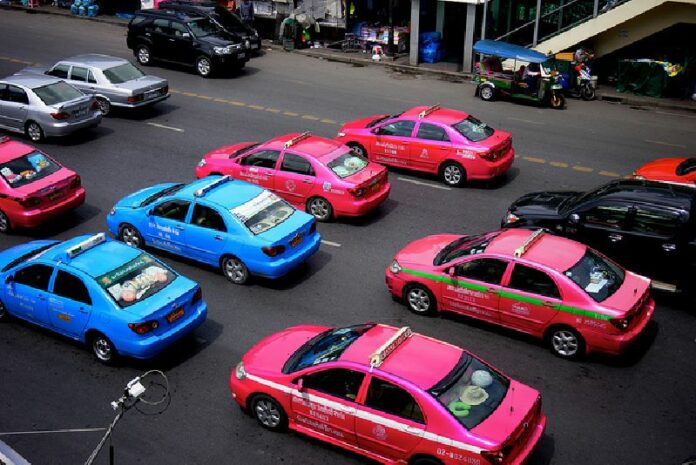 BANGKOK — While competition in the taxi app market is driving prices down, the Ministry of Transport approved a fare increase for traditional taxis of at least 5 percent.
The new adjustment expected to go into effect mid-April includes the meter rate and airport service charge. The second phase of a long-delayed adjustment first approved in late 2014 should help bring fares in line with actual costs, transportation officials said following a meeting Friday.
"The Department of Land Transport approved the first fare adjustment [in December 2014] for 6 to 8 percent higher," said the department's Sanit Phromwong. "The second adjustment in late April is expected to add 5 to 7 percent more which is still under 13 percent approved."
The changes approved in 2014 were the first increase to fares in nearly two decades.
Though the airport fee will also be increased, Sanit said it will not reach the approved maximum, as those offering airport service will already benefit from the fare increase.
The new meter rate and airport fee have not yet been finalized.
Officials said that when the meter rate comes into effect, strict enforcement will be enacted to prevent taxi drivers from not using the meter or refusing passengers. The department also said it will increase monitoring by ordering every taxi to install GPS devices this year.
For years, officials have sought to reduce the number of complaints about Bangkok's taxi service with cyclical crackdowns and enforcement efforts, all to little effect.
Related Stories:
Police to Combat Bad Airport Taxis With Lecture and Sticker
Cabbie Fined 1,000 Baht for 'Malfunctioning' Meter
Airport Taxi Busted for 'Turbo' Meter
Taxi Association Condemns 'No Japanese Passengers' Sign
Thai Govt Releases Taxi Rating App