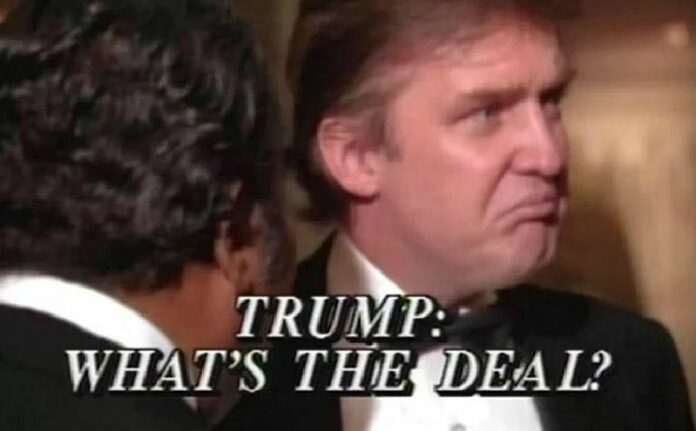 BANGKOK — Long a fixture of oversized American personalities, Donald Trump has become a household name around the world with his say-anything, demagogic quest for the U.S. presidency.
Beyond today's headlines and soundbytes and hands debate, the story of the man known as The Donald was the subject of a documentary never shown due to legal threats from Trump.
See another side to the Republican party front-runner in "Trump: What's the Deal," a 1991 documentary screening every Saturday evening this month at the Friese-Greene Club.
"The film-makers uncovered an empire that was built on exaggeration, distortion, extortion, and financial mismanagement," the club said in its announcement. "But then the Trump legal machine kicked into action, and [financier Leonard] Stern cancelled the series after threats of lawsuits."
Made at a time when television or movie theaters were the only means of reaching the public, the documentary Trump succeeded in suppressing for almost a quarter of a century resurfaced on the internet this past July.
It's title is a play on the title of Trump's first and most famous book "Trump: The Art of the Deal" published in 1987. The book, both memoir and business success how-to, was a bestseller.
The Trump-umentary will screen at 8pm on Saturday, and again on March 19 and March 26.
Club screenings are usually free, but due to licensing costs a 150 baht entry fee will be charged. Seating in the theater is very limited, but features typically show concurrently on screens in the downstairs lounge and bar area.

The Friese-Greene Club is located on Sukhumvit Soi 22. The private cinema can be reached by foot from BTS Phrom Phong.
Chayanit Itthipongmaetee can be reached at [email protected] and @chayaniti92.
Follow Khaosod English on Facebook and Twitter for news, politics and more from Thailand. To reach Khaosod English about this article or another matter, please contact us by e-mail at [email protected].