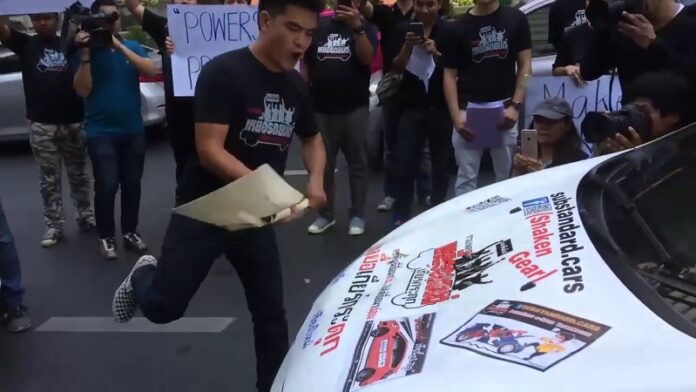 BANGKOK — Hundreds of Ford Fiesta and Ford Focus owners launched a class-action lawsuit on Monday demanding millions in compensation from Ford Thailand for false advertising and engine defects that allegedly resulted in cars catching fire.
Filing a class-action lawsuit representing all affected consumers, 400 Ford Fiesta and Ford Focus owners on Monday demanded the auto maker buy back their cars and compensate them with 24 million baht for their defective vehicles.
Alleging the Consumer Protection Board took too long to make progress on their claims, Ford users decided to take the case to the Civil Court themselves.
Owners allege the two Ford models are substandard and accuse the company of false advertising. They said the models shared safety problems such as faulty gears and clutch systems, forced engine shutdowns, braking problems as well as engine problems which led to them catching fire. All of them have put drivers at risk, they said.
There are no reports of injuries or deaths resulting from the alleged defects.
The lawsuit comes one week after the Ford Motor Co. recalled 360,000 vehicles, including some Fiesta models, in North America and Europe for similar engine fire issues.
Since last year, hundreds of Fiesta and Focus owners have filed complaints with the Consumer Protection Police Division, Consumer Protection Board and the Prime Minister's Office. They said they have yet to obtain satisfactory compensation.
After the longstanding fight, Ford owners took the case to the Civil Court and filed a lawsuit under the 2013 Consumer Protection Act after deeming the government process slow and not transparent.
"Today we see that authorities are unlikely to help us settle," Kobsak Numnoi said, expressing his doubts over the Consumer Protection Board, where he and other affected people filed complaints in August. "So we have to rely on a private lawyer."
On March 14, one of the car owners took a shovel to his car, smashing it in front of Ford Thailand's Sathon district headquarters, where 200 Ford owners had gathered to protest the company.
Ford Thailand later issued a statement blaming the customers for not installing new clutches in their cars even though the company offered to cover the costs of the replacements.
The motor company also said the car owners asked to buy their cars back at 80 percent of their original price, which they deemed unreasonable because some were already more than four years old.
The civil court is scheduled to decide on July 3 whether the case will be tried as a class-action – meaning any affected customers will receive the same compensation without having to go through a separate legal process.