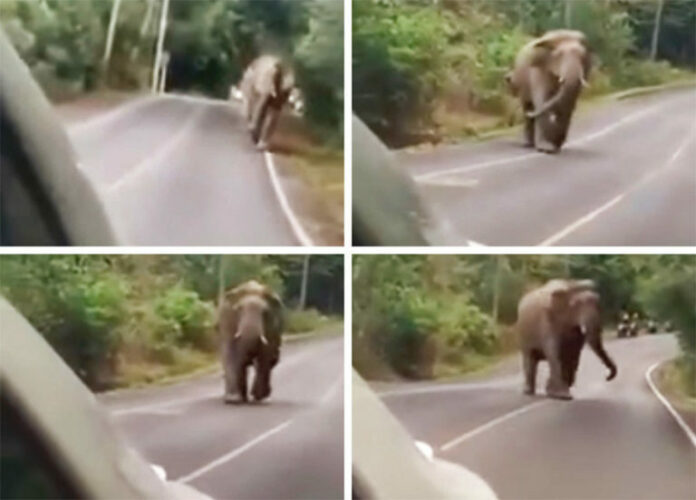 NAKHON NAYOK — National Parks officials Tuesday looking for a group of park visitors over footage in which they are seen harassing an elephant in Khao Yai National Park.
An online video of tourists heckling and screaming at an elephant from a Toyota Camry surfaced Monday, gaining nationwide criticism and leading park officials to track down and report the car's license plate to Nakhon Nayok police.
"Come on, fatty! What are you, a model walking in the middle of the road?" a woman is heard repeatedly screaming with a high pitch in the video. The provoked elephant starts to follow the car, when a man says "You're not faster than my Camry!" and drives a short distance away, before they repeat the procedure. The clip was first posted Monday morning on the popular Facebook page, "Wanna Be Famous? Leave it to Me V. 4."
"This elephant is P'Yoyo. He's the number one alpha male in the area,"  Pattapol Maneeorn, vet at the Khao Yai National Park said Monday. "He often gets injured when fighting other elephants and is very quick to respond to environmental stimulus, so he can get grumpy easily."
High-decibel screaming can annoy elephants, who can become stressed by exposure to high frequencies, said Pattapol.
Harassing animals in Thailand's national parks is against the law, subject to a fine of 500 baht and a five year prison sentence if such act threatens the animals' lives.
Pattapol discouraged park visitors from bullying the elephants, which can make the jobs of park rangers harder, as elephants' behaviour could become more erratic. If the elephants attacked and injured people after being provoked, then the elephants would be blamed as well, said Pattapol.
"Please also refrain from swearing at elephants," Pattapol said. "People should respect them since they're noble animals that's part of our history."
Online comments mostly criticize the Camry-drivers' behavior.
"What a disgusting thing to do! You're bullying the elephant for your own fun. If you get trampled to death, then you deserve it. Do you know that you're endangering others with your behavior?" wrote Facebook user Akapong Wong.