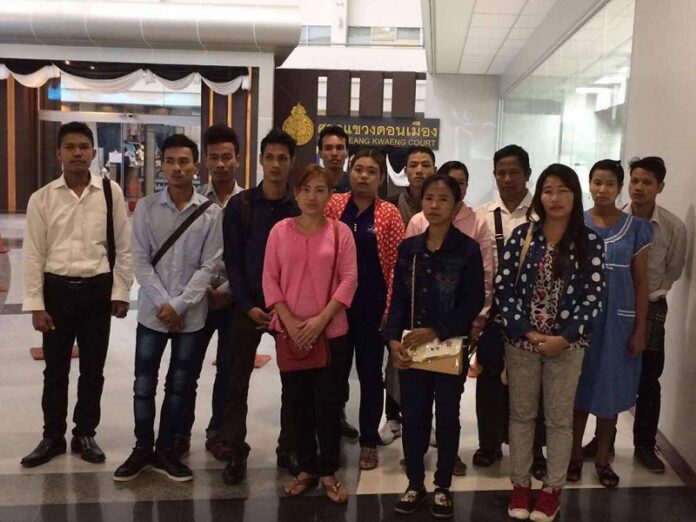 BANGKOK — Fourteen migrant workers pleaded not guilty Wednesday to charges of defamation brought by a chicken farm they had accused of labor abuses.
Prosecution of the 14 Burmese defendants on charges brought by Thammakaset Farm, which previously supplied poultry to agricultural conglomerate Betagro, began after they complained to the National Human Rights Commission that they were being forced to work and deprived of their rights.
In July 2016, the workers told the commission they were made to work 20 hours a day and only allowed to leave the farm for two hours every week. They alleged that they were kept in poor living poor conditions, received unfair pay and had their own legal documents kept from them.
They entered their pleas today at the Don Mueang Court two weeks after the Supreme Court ordered the company to pay their back wages.
Thammakaset said the complaints were without merit and filed suit alleging the 14 migrant workers had made false and defamatory statements.
Through an interpreter today, all denied the charges against them, which human rights groups say were brought by the farm to silence them for blowing the whistle.
The 14 were unable to pay bonds to secure their release on bail. The court agreed to free them on their own recognizance but barred them from leaving the country without its permission. The defendants were also ordered to report any changes to their temporary residences, and threatened with 20,000 baht fines should they miss a court date.
"We asked the court for justice, as none of them had money to pay the bail," said Sutthasinee Kaewleklai, coordinator of the Migrant Workers Rights Network, which has provided legal aid to the workers. "So the court allowed them to swear an oath instead."
As far as their original complaints, the workers recently won a legal victory with a landmark ruling from the Supreme Court, which on Sept. 14 ordered Thammakaset Farm to pay 1.7 million baht in compensation to them.
The 14 workers are currently working in the heart of the Thai fishing industry, the Mahachai subdistrict of Samut Sakhon province.
Correction: This article previously said Thammakaset Farm supplies poultry to agricultural conglomerate Betagro. In fact, they were no longer contracted.