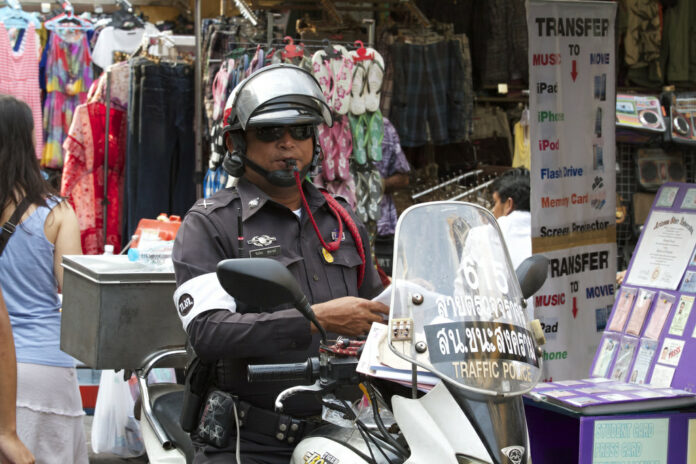 BANGKOK — It's an experience familiar to most motorists: cruising down the road with the tunes turned up when traffic suddenly slows and a policeman jumps out.
Sometimes it's for an illegal lane change; sometimes it's for some kind of safety check. Sometimes it seems just to wave a flashlight in people's faces. Whatever the pretense, they often end with being asked for a couple 100 baht notes to continue on one's way.
Those who enjoy these interactions with Bangkok's finest shed thy tears, because they could be over if the newly appointed metropolitan police chief lives up to his word. Three days after he was appointed to replace the outgoing police commissioner, Gen. Chanthep Sesawech announced Wednesday that he had already ordered spontaneous police checkpoints be abolished on grounds that they are counterproductive.
"I meant it. I ordered them gone on Oct. 2. It's now in effect," Chanthep said by phone. "This Friday, I will call another meeting and reiterate my order to all station superintendents and their deputies."
Read: Bangkok Traffic Cops Told to Respect Bosses' Privilege
Sobriety checkpoints will be unaffected by the policy change.
Chanthep, whose predecessor Sanit Mahathavorn was retired out at 60, said traffic checkpoints targeting petty offenses did more harm than good. They open the door to corruption, which makes the public hate police, and checkpoints also ended up making traffic worse in some cases, the police general said.
"Police always get in disputes with the public because of this, and the public always complained about this, so I want to fix our image," said 59-year-old Chanthep. "From what I've talked to the people, whenever they get flagged down, they immediately think police will extort them."
Chanthep was promoted as part of an annual October reshuffle of bureaucrats and other officials. His predecessor Sanit oversaw a colorful tenure that began with him coaxing violent young offenders to greet their rivals with loving body language.
For Chanthep, it was a vow to eliminate a common annoyance.
But it wasn't the first time someone has vowed to rein in spurious checkpoints, and those who closely monitor such things in the popular We Love Police Checkpoints community were unconvinced.
"Bullshit! You would have to be crazy to believe or support this idea," user Hangman Mindgame  wrote there. "If they don't have checkpoints, how are they going to earn money?"
Another user suggested the force would be unable to surrender their pocket-lining power.
"Checkpoints are for making money," user Shinnawat Boonjaroen wrote. "They cannot just quit them."
Chanthep's method is a sharp departure from his agency's anti-graft initiative in 2014, when Bangkok police announced rewards for officers who declined bribes from motorists. The policy was canceled after much ridicule but still won a satirical Ig Nobel prize the following year.
The new chief said that eliminating the checkpoints means police can focus on wrongs such as parking illegally and running red lights. Breathalyzer and other security checkpoints will still be in effect, he said.
Bids to make Bangkok traffic less miserable and an unending series of "crackdowns" on traffic-related matters come and go every year, largely without any impact. Bangkok traffic police, derisively known by motorists as "ping-pong heads," and their checkpoints are common fodder for public enmity.
Asked if he thinks traffic law violations could rise after the offensive checkpoints are gone, Chanthep said he will keep an eye on the crime stats.
He also urged motorists to show discipline and obey traffic regulations on their own instead of needing prodding by the police.
"When motorists don't have discipline on the road, the nation has no discipline as a whole," Chanthep said.
Related stories:
Police Clarify Footage of Officer Tripping Motorcyclist [+video]