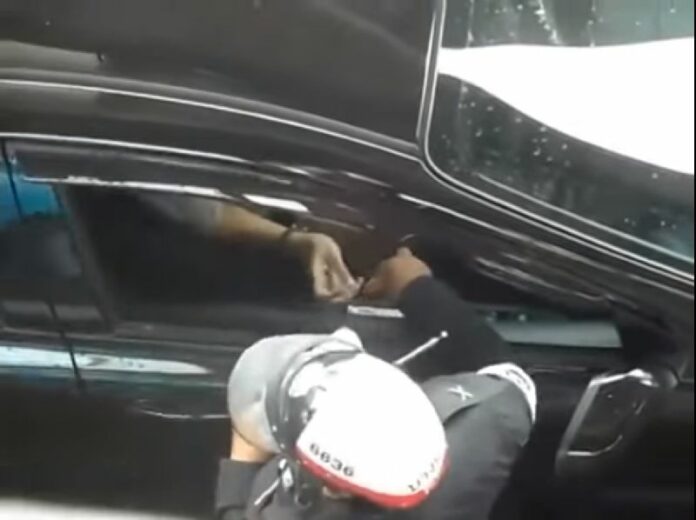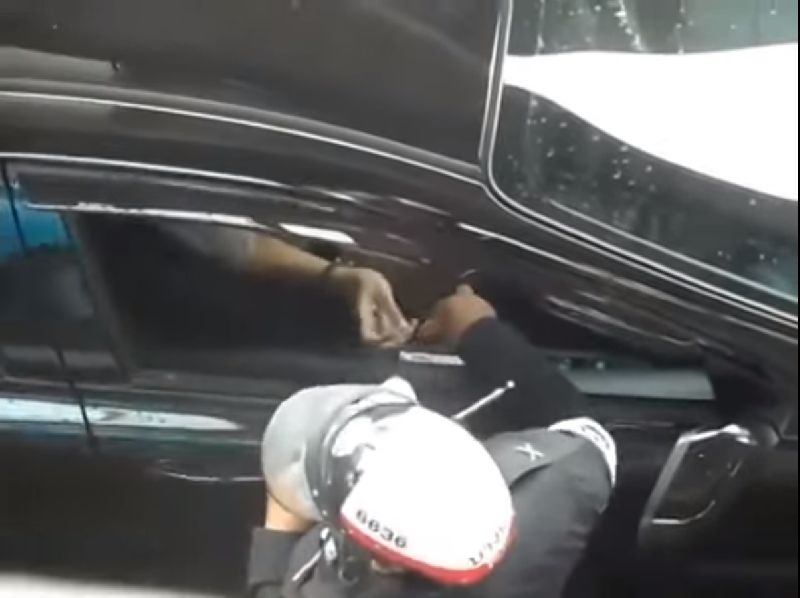 BANGKOK — It looked like a shut-and-closed case when a video went viral of a traffic police officer caught red-handed accepting a bribe last week from a truck driver in Nakhon Sawan province.
Although there's stiff jail time for accepting a bribe, long an endemic practice at all levels of society, the officer has yet to be charged with any crime due to a technicality that would seem to discourage such cases going forward: The bribe-paying driver hasn't shown up in person to file a complaint.
Why not? As the nation's top highway cop explained, the driver himself would go to jail, as the law criminalizes both accepting and giving bribes.
"If he admits the bribery took place, he would be punished too," Maj. Gen. Somchai Kaosamran said in a Wednesday telephone interview.
This conflict of interest in reporting bribery seems another Catch-22 deterring citizens from speaking up or taking action about the corruption permeating the police force.
Police identified the officer in the video as Lt. Cpt. Thawat Umsuparb. The incident took place March 6 on Nakhon Sawan's Asia Road, according to the person who filmed and uploaded the clip to Facebook.
Maj. Gen. Somchai said Thawat has been administratively disciplined and will be locked up for seven days. Asked why Thawat wasn't kicked off the force, Somchai said regulations say officers can only be expelled if they are found guilty of a criminal offense.
And the only way to file charges against Thawat, he continued, would be for the truck driver and his videographer friend to show up in person to file a complaint. The video alone is insufficient because it doesn't show the whole context of the situation.
"In criminal law, evidence has to be complete. We can't just make an allegation on our own," Maj. Gen. Somchai said. "Suppose we file the charge without supporting evidence, that person may file a lawsuit against us in return. That's why we have to interrogate three parties involved: the person who filmed the clip, the person who gave the money and the police officer."
Once the driver implicates Thawat – thereby confessing to paying him a bribe – he would be taken into custody and prosecuted as well.
Somchai said he sympathizes with the driver, but insisted police have to adhere strictly to the rule of law.
"To be honest, I really don't want to answer questions about this case. I don't want to demoralize the people, but we'd have to prosecute him, because he's guilty of giving the bribe," Somchai said.
Mitigating Circumstances
Bribery is widespread across the bureaucracy and motorists are familiar with the culture of bribing police officers when they commit infractions minor or serious to avoid the lengthy process of paying fines in person at police stations. It has led to a symbiotic relationship which drivers and police officers seem happy to participate in.
Many failed initiatives to curtail the practice can be seen in the rear-view mirror.
In October 2014, Bangkok police launched a short-lived policy of awarding officers who refused bribes. It lasted two weeks before being pulled, possibly in response to cascades of ridicule on social media.
Somchai said this culture of bribery is easily solved if motorists simply refuse to give bribes to police at all: "We all have to help. Don't give bribes."
But what if a police officer forces you to do so? Is that enough grounds to seek leniency in the court?
Somchai said it depends on what's meant by "force."
"They can't force you to pay a bribe, unless they forcefully take away your driving license," the major general said. In that case, he explained, motorists should immediately report the crime to a nearby police station, because it would be extortion.
Royal Thai Police spokesman Dechnarong Sutticharnbancha said citizens who are subject to intimidation by police to pay bribes won't face charges under anti-bribery laws.
"We'd have to look at whether there was any intimidation. We'd have to look at the facts," Gen. Dechnarong said.
He declined to give specific examples of what would count as "intimidation," as circumstances vary in each case. And he declined to comment on the video of Thawat accepting the truck driver's bribe.
Some Bribery Straight Talk
What should drivers do when they encounter police officers thirsty for tea money?
First of all, Somchai said, don't pay a bribe, whether you're guilty or not.
Next, send a Line message his way via @Highway1193.
"Inform me right away. I personally read all the messages," Maj .Gen. Somchai said.
Dechnarong, meanwhile, suggested embracing the power of technology: Film the cops right away, from the very moment they start making demands.
"Just get your phones out and film them!" Dechnarong said. "It's your evidence. If you don't have evidence, you will only have words when you testify."
If you don't have a camera or phone at hand, testimony from witnesses, such as a passenger, could also count as evidence.
Related Stories:
Policeman Rewarded 10,000 Baht For Declining Bribe
Thailand Wins 'Ig Nobel' Distinction for Bribing Cops not to Take Bribes
Teeranai Charuvastra can be reached at[email protected] and @Teeranai_C.