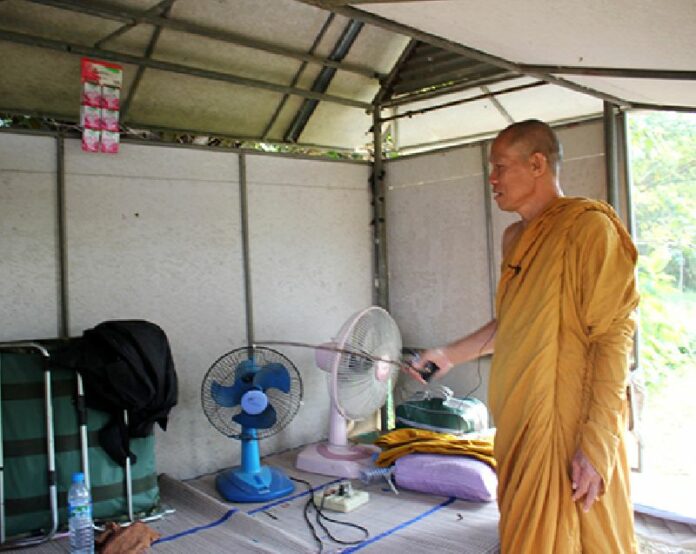 NAKHON PATHOM — A gunman opened fire on the temple where an ultra-royalist activist monk was sleeping last night.
Two security guards at the Nakhon Pathom province temple where Buddha Isara stays told police they hid after hearing gunshots at about 10pm on Tuesday night, which police believe were fired by a single shooter. Seven bullet holes were found in the wall of the guard station located 500 meters from where the political provocateur monk was sleeping at Wat Or Noi.
"We will inspect the security cameras installed on the road leading to the back of the temple," said police Col. Witipot Pojanakhom. "But the area where the guard's residence is located has no camera, as it's just a vegetable garden."
Buddha Isara said today the incident did not scare him. The controversial monk, who led anti-government protests and seized government ministries in 2013, said he knows his involvement in national politics has won him many enemies.
He mentioned recent Facebook flame wars with Redshirt leader Jatuporn Prompan and activist Sombat Boonngamanong and also his opposition to endorsing the acting Supreme Patriarch in the battle to succeed the former deceased.
"To those gunmen who have been attacking Wat Or Noi almost every month and getting closer to where I stay, if you want to shoot me to dead, tell me beforehand," he said. "I will walk out and let you shoot me. I am ready."
Wat Or Noi has been attacked several times but no one has ever been injured by the gunfire. In 2014, after being shot at a number of times, the temple put up a banner which read "Public Shooting Range, anyone who can hit the target can receive a reward from Buddha Isara!"
Related stories:
PCAD Supporters Rally to Support Jailed Popcorn Gunman'
Hundreds of Monks Clash with Military West of Bangkok (Video)
Politics, Corruption in Battle for Naming New 'Supreme Patriarch'
Ultra-Royalists Call for Removal of U.S. Ambassador
Hardline Royalists Stage Protest in Front of US Embassy