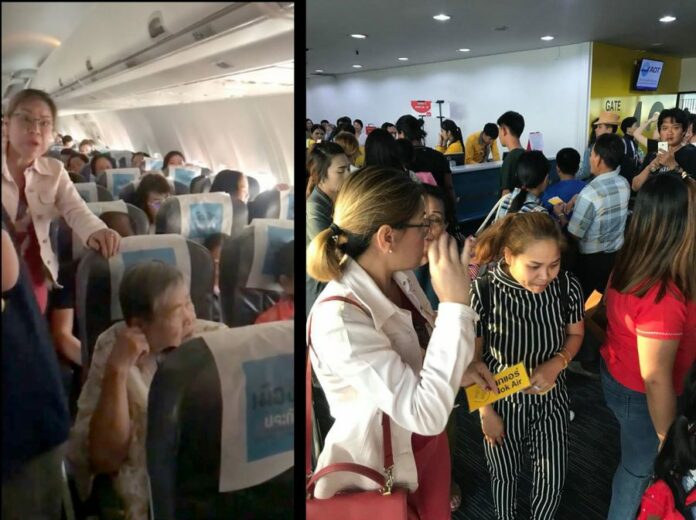 BANGKOK — Low-cost airlines and operators, this is the final call from the Transport Ministry: please proceed to the gate and depart on time.
Transport minister Arkhom Termpittayapaisith announced Thursday that low cost airlines must fix their chronic delays that have prompted passengers to complain.
"If the problem happens too often, it will impact confidence of customers," Arkhom told reporters, adding that aviation licenses also require airlines to prioritize passenger service, not only safety.
Arkhom also said he has ordered the Civil Aviation Authority to discuss the issue with a particular airline, which he did not name.
His comment came just after Nok Air passengers suffered two major delays in less than a month; a four-hour delay from Bangkok to Phrae on Feb. 26, and the two-hour delay of a Bangkok-Udon Thani flight on Tuesday.
After the Tuesday incident, passengers complained on social media the airline did not tell them their departure was postponed and forced them to wait on the plane without air-conditioning.
Civil Aviation Authority director Chula Sukmanop also confirmed that his agency has been instructed to talk to Nok Air representatives about their recent delays.
"In the latest case, Nok Air failed to inform passengers there was a delay or how long they had to wait," Chula said in an interview. "This had happened before."
But Nok Air CEO Piya Yodmani said the notion that his airline has more records of delays than others is a "myth."
"There seems to be a myth about the punctuality of Nok Air flights because of some
high-profile stories on social media about certain unfortunate delays," Piya said in a statement. "Weather conditions, airport congestions and unexpected aircraft technical difficulties are among the causes which are beyond our control, though we strive to meet the flight timetables. But to say Nok Air is a synonym with delay is an unfair statement."
Eighty percent of Nok Air flights were on time in 2017, Piya said, adding that the airline takes passengers' complaints seriously.
Chula said there is no penalty for flight delays, and airlines are only required to provide food and water to passengers in case of delays. Companies that fail to do so risk losing aviation license, he said.
"It's impossible to aim for zero delays, because flight delays depend on a lot of factors," the official said, adding that he had no data at hand. "But we are talking with airlines to ensure it doesn't happen often."