Top: The Santos-Lake family at Carmen's third birthday party.
BANGKOK — It was Saturday morning in Spain and Carmen is already up, drawing a rainbow on daddy's face with a red crayon. Behind her, big brother Alvaro is trying to spin a plastic bowl on a stick. Moments later, their other papa called from work, telling them to prepare for an afternoon birthday party.
It's been nearly two years since a same-sex, American-Spanish couple won a high-profile custody battle against the Thai surrogate mother to bring Carmen back home to Spain.
As fathers to two surrogate-born children, Gordon "Bud" Lake and Manuel Santos settled into a home in Valencia where they are raising 4-year-old Alvaro and Carmen, who's now 3.
The family appears to have moved on from the difficult year they spent battling for custody of Carmen in Thai courts. Indeed, in their social media feeds, the past 34 months have been filled with Carmen enjoying her first paella, splashing in a pool, participating together in a pride parade and other moments that seem to show a close, happy family.
Bud sat down with Khaosod English (as long one can when tending two children) to share how Carmen's adapted to family life in Spain.
Chayanit Itthipongmaetee: How have you guys gotten on since leaving Thailand?
Gordon "Bud" Lake: Everything is great. We settled down with the kids like right away. It was amazing how easily Carmen adapted to Spain and how Alvaro adapted to having Carmen at home.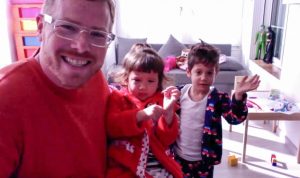 CI: What is she like?
GL: Carmen loves to dress up. It's so funny because she has some traditional Thai outfits that people gave her as gifts. She would put a tutu on, then a traditional Thai top or a crown. And she always goes, "Mas, mas." (more, in Spanish). She wants to put more stuff on it. She loves to have a little headband on for her hair. Actually Manuel just braided her hair yesterday for the first time. They were so excited.
They also love going to the beach. We live right by a rock beach, so they love playing in the sand with the rocks. They ride bikes. Alvaro got a scooter for his first birthday but Carmen is the one who actually rides the bike. She's so funny because she just jumped right up on it and took off. Carmen likes to climb around on stuff. We're really more worried about Alvaro because he's a little more clumsy.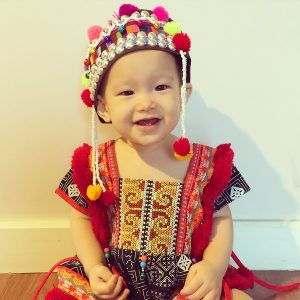 CI: What did you do for Carmen's third birthday?
GL: They have ball pit where kids jump into the balls, throw some around and run around. The kids were playing and they had their cake. Neighbors and family came. She got so much stuff, I don't know how. So much. So many toys, so many clothes. She loved it, she loved tearing open the gifts. She got a new baby doll. She loves dolls. She loves playing with baby dolls, but she also loves babies. At the daycare she's in a big kids' room, but she goes and helps with the babies.
CI: What are some of the most memorable moments about Carmen? What was her first word?
GL: I don't really remember. It was actually when she was in Thailand. She was already going, "Mhum mhum" which means she's hungry or she wants to eat? [CI: Yes!]. She probably got it from daycare in Thailand. So yeah, that's definitely her first word … it was about food. Not surprisingly.
And it was a week and a half ago we took the kids to see snow for the first time. The snow was a really heavy and wet. The first thing Carmen wanted to do was to touch it, so she touched it. We could see her face. She did not like the first sensation. She was like, "Noooo." But then when [Carmen and Alvaro] got on the sled and we started running around, they really liked it. Although they started to get wet and cold, they didn't want to stop. They just wanted to keep playing.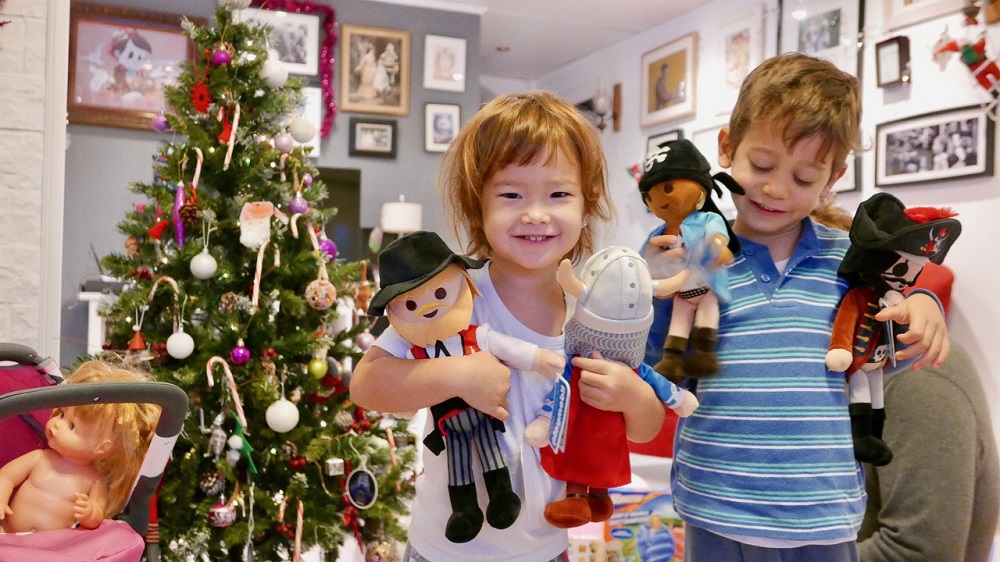 CI: How do you two split parenting?
GL: Manuel has a couple small businesses. The routine just falls into place. I leave right after the kids get up so I like to see them in the morning before I go, because I'd really miss them if I didn't see them before I left. I guess it's normal like every family has their routine. Manuel gets up and has breakfast and wakes up the kids and they have their milk and breakfast and watch something on TV. Then he dresses them up and gets them to school … Manuel drops Carmen at daycare, then Alvaro at his school. This September Carmen will be going to school, the public school system.
CI: Will you ever return to Thailand?
GL: We'd love to all come together. We love Thailand. The kids know about Thailand. Carmen was born in Thailand and Alvaro was born in India. They realize there are different countries out there. They're creating their identities out of different countries which I didn't realize at all when I was there. They have a very clear concept of different countries, cultures and languages. Sometimes when they were going to bed and counting sheep, they'd ask me the numbers are in French. I think because Peppa Pig has a French friend called Delphine. Even from Peppa Pig they could identify that there is another country and culture. I think that's super cool.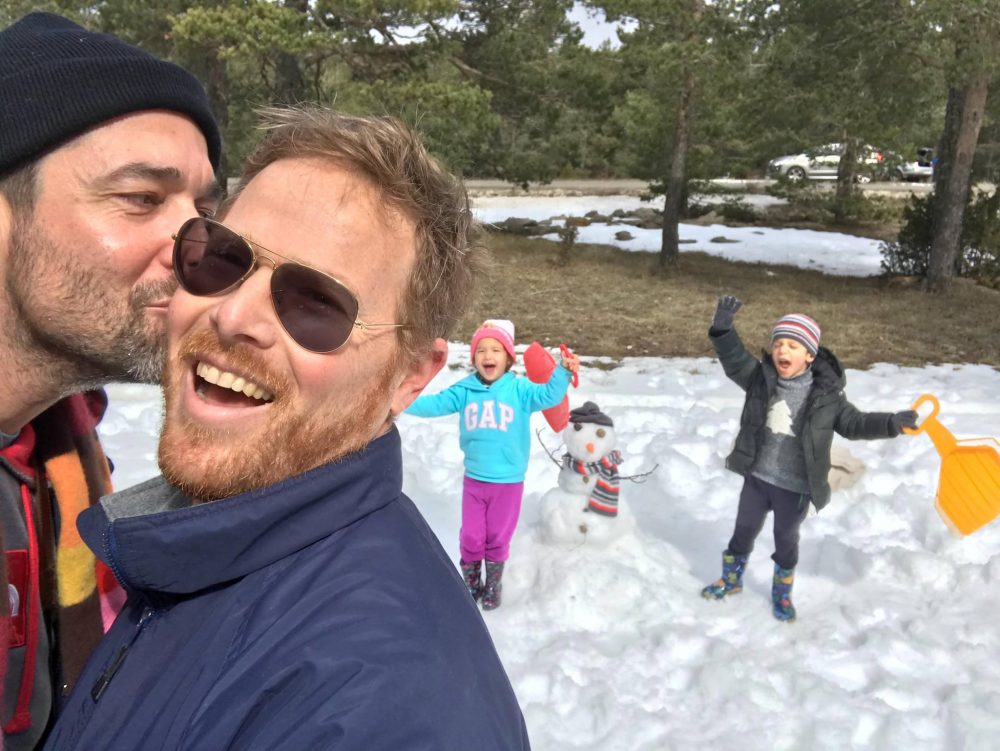 CI: How does she get along with her big brother Alvaro?
GL: They're brothers and sisters. They have their moments. Most of the time they get along perfectly. They care so much about each other. They always look out for each other. They share. I mean sometimes one would get upset because the other has their toys. We have to say, "Come on, don't you wanna share  […] ?" But a lot of times they just do it on their own too. We're really lucky in that sense.
The first six month of Carmen, they lived together in Thailand. Then Alvaro came home and they were apart for a year. But it didn't affect them at all. They're super cute together and they love each other. Carmen is really excited when we talk about going to the same school as Alvaro later this year.
CI: You made your own recordings of nursery rhymes rewritten to reference to dads. Which song does Carmen like to sing the most?
GL: We have a smart TV. Carmen pretty much learns to use a remote control to turn YouTube on so she can sing and dance on it. But yeah, the Nursery Rhymes project was from Manuel. It was a little uncomfortable when we sang some of the songs to the kids because they always talk about a family with a mother and father, or a lot of the songs just focus on the mother, the female role model. They just don't represent our family. So Manuel had the idea of adapting the songs for the family. The kids just love them. We listen to them in the car. Carmen loves "Five Little Monkeys" so she finds excuses to jump everywhere.
It's so nice to have an album with these songs that the kids can totally relate to. For them, it's completely normal.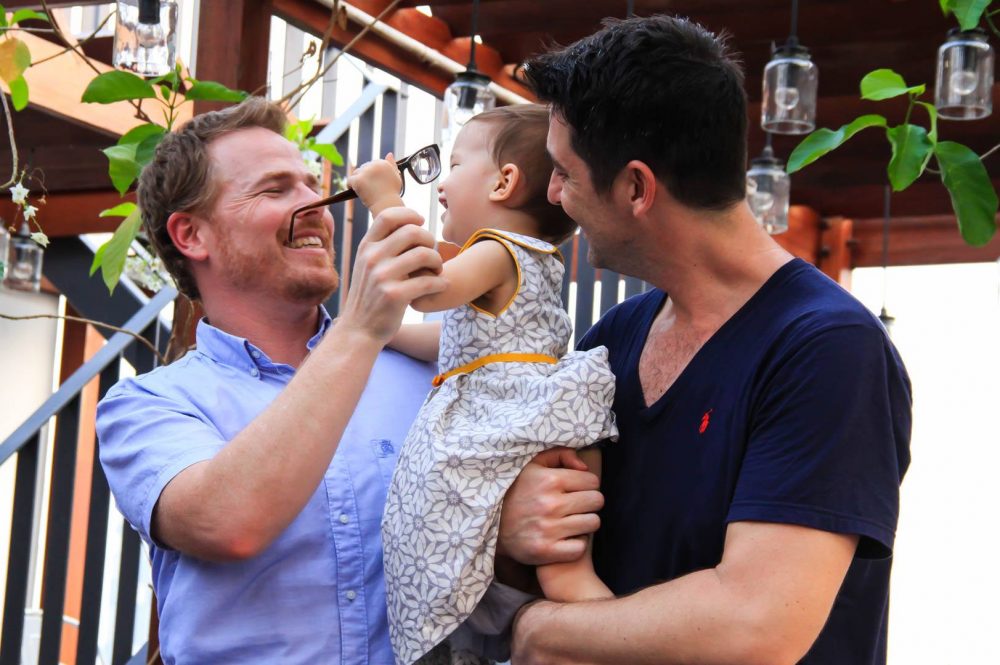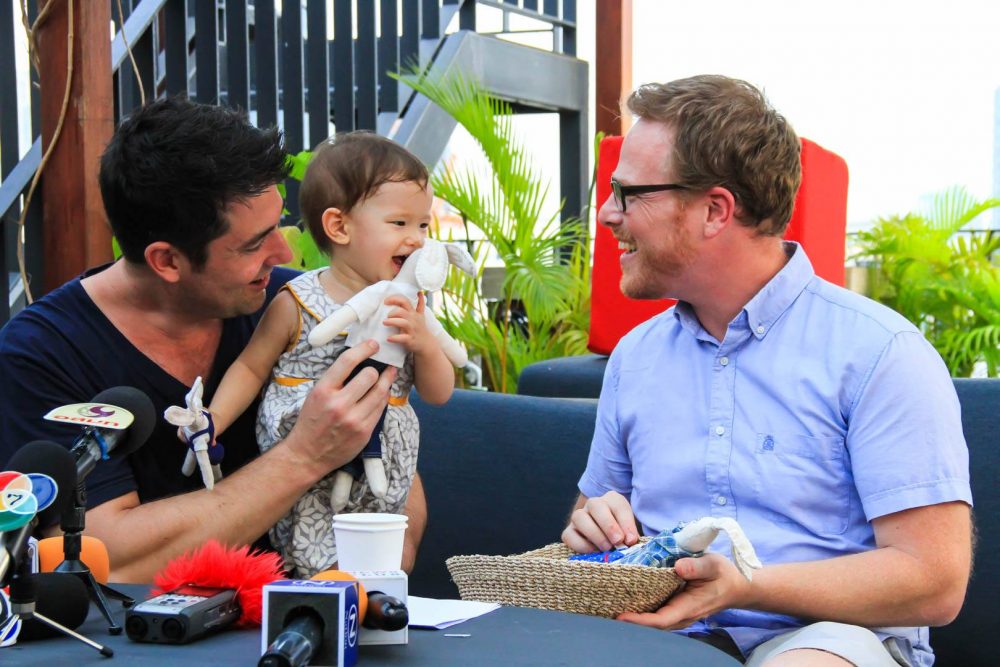 Related stories:
Court Rules Dads Can Take Baby Carmen Home
Baby Carmen Dads Must Wait 5 More Months
Battle Over Baby Pits Gay Parents Against Thai Surrogate