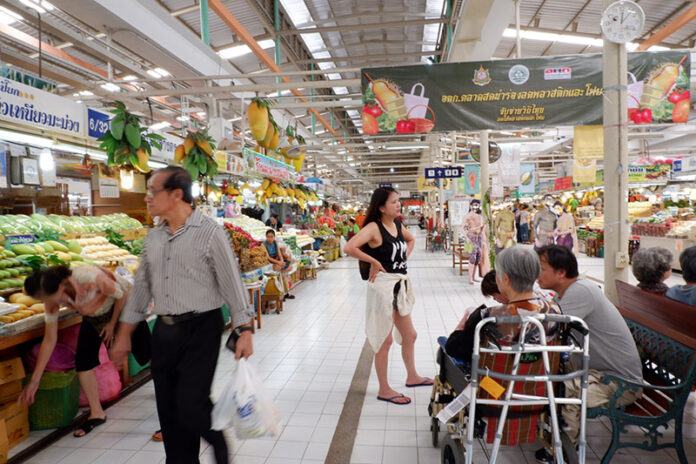 BANGKOK — A majority of the public thinks the economy is heading in the wrong direction as consumer confidence slipped slightly last month due to anxieties over rising costs and political uncertainty, according to survey data out Tuesday.
The University of the Thai Chamber Commerce reported over half of people surveyed felt the current economic situation is poor despite government reports it expanded at the fastest rate in five years during the first quarter.
"Political anxiety, as the election has been postponed to February 2019, impacts the people and investors' confidence," said Thanavath Phonvichai, director of the Center for Economic and Business Forecasting. "Whether the cabinet reshuffle will affect confidence depends on which minister will be in charge, if people have confidence that a new person is capable of continuing ongoing policies."
Thanavath referred to rumors that junta chairman and Prime Minister Prayuth Chan-ocha may reshuffle his cabinet a fifth time.
The chamber of commerce report also identified unfavorable indicators such as a recent spike in petrol prices which "imposes a negative psychological impact," as well as higher costs of living and commodities.
"Consumers feel that the economy is recovering slowly and not equally distributed," the report said. "They also feel that their current income doesn't match the increases in cost of living."
May's consumer confidence index stood at 66.9, down slightly from 67.8 a month before. The survey found 56.5 percent of consumers said the economy in its current state is bad or getting worse, while only 5.8 percent think it is good or getting better.
Those sentiments appear unswayed by economic growth reported by the government, which said expansion of 4.8 percent in the first quarter, an increase over the previous period and the highest rate in five years. It cited strong consumption and exports.
Economic forecasts for this year have been revised upward to between 4.2 percent and 4.7 percent growth, nearly a full point above previous estimates of 3.6 percent to 4.6 percent.