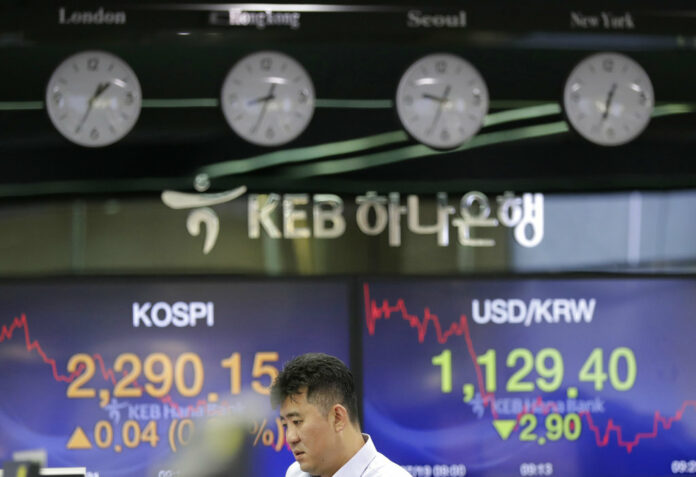 SEOUL, South Korea — Asian stock markets were drifting lower Thursday as investors awaited further moves in global trade disputes.
Keeping Score
Thailand's SET traded at 1,646.89 Monday afternoon, a 0.7 percent gain. Japan's Nikkei 225 dipped 0.1 percent to 22,764.68 while South Korea's Kospi shed 0.3 percent to 2,282.29. Hong Kong's Hang Seng edged 0.3 percent lower to 28,037.78 while the Shanghai Composite Index slipped 0.5 percent to 2,772.55. Australia's S&P-ASX 200 gained 0.3 percent to 6,262.70. Shares rose in Singapore and Indonesia but fell in Taiwan and the Philippines.
Asian Development Bank Outlook
The Manila, Philippines-based Asian Development Bank issued a revised economic forecast for the region and for major industrial economies that kept mostly unchanged the estimates for growth it made in April, though it warned that trade tensions pose "a clear downside risk to the outlook for developing Asia." It forecast growth for the region at 6.0 percent in 2018 and 5.9 percent for 2019.
Fed Testimony
Federal Reserve Chairman Jerome Powell wrapped up his semi-annual testimony to Congress about economic and monetary policy with an overall positive assessment. However, he warned that trade battles with China and higher U.S. tariffs on foreign products cause higher inflation that might require a change of strategy.
Analyst's Take
"The tone is little changed from yesterday with earnings and the Fed relief carrying markets higher and providing positive leads for us here in Asia. That said, markets lack real conviction amid the waffling sentiment," Jingyi Pan of IG said in a commentary.
Wall Street
U.S. stock indexes finished slightly higher Wednesday. The S&P 500 index rose 0.2 percent to 2,815.62. The Dow Jones Industrial Average added 0.3 percent to 25,199.29. The Nasdaq composite finished nearly flat, losing 0.67 points to close at 7,854.44. The Russell 2000 index of smaller-company stocks gained 0.3 percent to 1,691.87.
Oil
Benchmark U.S. crude lost 25 cents to $68.51 per barrel in electronic trading on the New York Mercantile Exchange. On Wednesday, the contract rose 1 percent to finish at $68.76 a barrel in New York. Brent crude, used to price international oils, fell 48 cents to $72.42 per barrel in London. It added 1 percent to settle at $72.90 a barrel on Wednesday.
Currencies
The dollar rose to 112.94 yen from 112.85 yen. The euro weakened to $1.1614 from $1.1638.