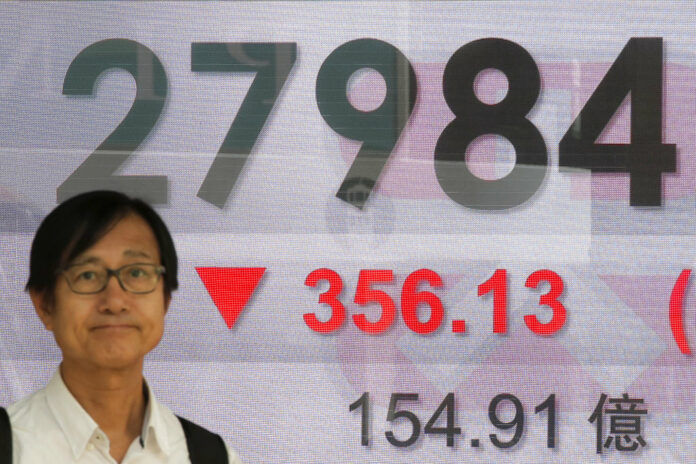 BANGKOK — Share benchmarks in Asia are sliding, tracking losses overnight on Wall Street, where investors sold industrial stocks following reports that the Trump administration is considering a higher tax rate on Chinese imports.
Keeping Score
Thailand's SET was trading at 1,708.99 on Thursday morning, a 0.8 percent loss. Japan's Nikkei 225 index sank 0.7 percent to 22,596.31 while the Shanghai Composite index lost 2.5 percent to 2,755.22. Hong Kong's Hang Seng index dropped 2.4 percent to 27,652.85 and the Kospi in South Korea shed 1.3 percent to 2,277.53. Australia's S&P ASX 200 skidded 0.3 percent to 6,259.40. Shares also fell in Southeast Asia and Taiwan.
Apple Record
Already the most valuable company in the U.S., Apple was the biggest gainer of any S&P 500 stock Wednesday, finishing at another record high. The tech giant said the average selling price for the iPhone jumped 20 percent in its latest quarter and its third-quarter profit and sales both surpassed analyst projections. Apple's third fiscal quarter is usually its weakest. The company's forecast for fourth-quarter revenue also topped Wall Street estimates. Apple surged 5.9 percent to USD$201.50. That gives the company a value of $973 billion, based on its latest quarterly filing.
Wall Street
The tech-heavy Nasdaq picked up 0.5 percent to 7,707.29. But other benchmarks were lower overall after the Trump administration said it might put a 25 percent tax on $200 billion in imports from China. It had proposed a 10 percent tax in July, shortly after imposing a 25 percent tax on $34 billion worth of imports. China again threatened to retaliate. The S&P 500 index shed 0.1 percent to 2,813.36. The Dow Jones Industrial Average lost 0.3 percent to 25,333.82 and the Russell 2000 index of smaller-company stocks lost 0.1 percent to 1,669.26. Almost two-thirds of the stocks on the New York Stock Exchange traded lower.
Analyst's Viewpoint
"Oscillating risk sentiment over trade concerns return to the fore in denting markets into Thursday with the market biting on the prospect of the latest threat for Chinese goods, setting a soft start to the Asia session," Jingyi Pan of IG said in a commentary.
Fed Talk
As expected, the Federal Reserve left interest rates unchanged, but hinted it's likely to raise rates again in September. High-dividend stocks like consumer products makers sank as bond yields increased. The central bank noted the labor market continues to improve and the economy is growing at a strong clip, while inflation has reached its target of 2 percent a year.
Energy
Benchmark U.S. crude added 18 cents to $67.84 per barrel in electronic trading on the New York Mercantile Exchange. It dropped 2 percent to $67.66 per barrel in New York. Brent crude, used to price international oils, gained 24 cents to $72.63 per barrel in London.
Currency
The dollar fell to 111.59 yen from 111.72 yen. The euro slipped to $1.1655 from $1.1659.
Story: Elaine Kurtenbach