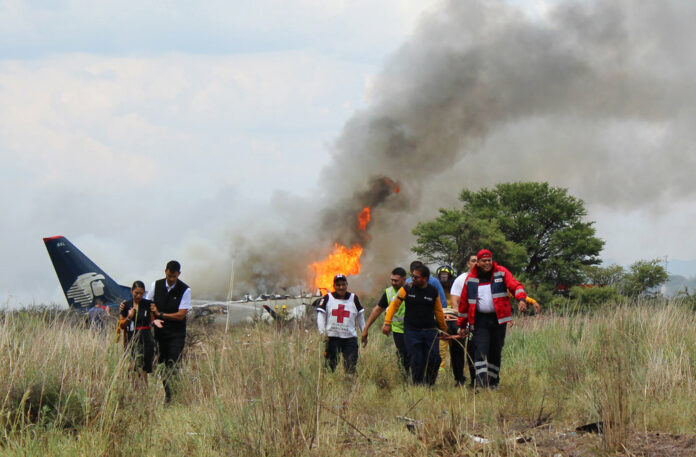 Passengers in plane crashes like the Aeromexico accident – in which no one died – have better chances of survival due to better aircraft construction and safety standards, experts say.
People are now less likely to be trapped by collapsed seats and floors, especially if the plane comes to rest more or less level and the accident occurs on flat ground and at lower speeds, as happened with Tuesday's crash in northern Mexico.
Survival rates are higher than ever in part because "airplanes are stronger than ever," said Adrian Young, an air-safety investigator from the Netherlands-based consultancy To70.
Other improvements in recent decades include wider use of materials that burn more slowly and without giving off toxic fumes, and smarter airport layouts that eliminate obstacles near runways.
In the end, though, "Good fortune is crucial in any accident," Young said Wednesday.
Authorities in Mexico said there were no fatalities among the 97 passengers and four crew members aboard the Embraer 190 jet that crashed moments after takeoff in Durango, sending plumes of black and gray smoke into the sky. Rescuers took 49 people to hospitals; most of them had minor injuries.
On average, about 56 percent of passengers survive airline accidents in which at least one person is killed.
Takeoff accidents occur on or near the runway, so obstacles on the ground – runway lights, fences, ditches and embankments – can lead to more extensive damage to the plane and increase the risk of an immediate fire, said Harro Ranter, CEO of Aviation Safety Network, which compiles a database on accidents.
"Luckily the area around the runway at Durango was relatively flat and covered with some bushes and no hazardous obstacles or ditches," Ranter said. "This likely caused all on board to survive (or) else it could have ended up a whole lot worse."
There have been other serious accidents in which everyone on board survived despite major damage – even destruction – of the plane.
In 2016, everyone escaped after an engine explosion during takeoff caused a fire that severely damaged an American Airlines plane at Chicago's O'Hare Airport. In 2013, a Lion Air jet missed the runway, crashed in water and broke in two near Bali, Indonesia, yet all 108 people on board got out alive.
And in a famous event from 2009 that inspired a movie, US Airways pilots Chesley Sullenberger and Jeffrey Skiles safely landed their US Airways jet on the Hudson River after the plane's engines were knocked out by striking a flock of geese during takeoff from New York's LaGuardia Airport.
The improved odds of surviving a crash are partly due to advances in technology. Aircraft engineers have reinforced areas that proved to be weak in previous crashes. Seats are stronger to withstand violent impact. Seat materials and carpets are treated with fire-retardant chemicals to give passengers more precious time to escape before fires spread. Fire-suppression systems in cargo holds are now mandatory.
Many of those improvements involved learning from investigations into past disasters. That has led to fewer airline accidents and fewer fatal crashes. Many safety experts regard 2017 as the safest year yet.
The Aviation Safety Network counted just 10 fatal accidents involving commercial aircraft last year, causing 44 deaths. There were nearly 600 deaths a year on average over the previous 10 years, according to the group.
"You have less aircraft that are running into mountaintops" because of systems that warn pilots if they are close to the ground, said Mark Millam with the U.S.-based Flight Safety Foundation. "This is coming from things that were witnessed in other accidents. It is decades of effort."
Passengers can give themselves a better chance by following a few simple steps:
— Wear shoes instead of flip-flops or sandals that can easily fall off, leaving bare feet exposed to fire or debris.
— Put children under 2 in a child seat even though U.S. rules don't require it. Lap children can become projectiles during a crash.
— Listen to the crew's safety demonstration before takeoff and memorize the locations of the nearest exits, including those to the rear. Count the number of seat rows to those exits in case smoke and darkness make it hard to see.
— Stay buckled in; this will also protect against injury during turbulence.
— Follow flight attendants' instructions, especially if they warn to brace for impact. That's what Alberto Herrera did when he felt the Aeromexico plane start to shudder during takeoff Tuesday.
"I just started, out of instinct, bracing for impact as the plane started jolting and slamming into the ground," Herrera told NBC. "It's just a blessing that I'm here to kind of tell the story."
— Finally, leave carry-on luggage behind during an evacuation. After the American Airlines accident in Chicago, investigators said bag-toting passengers contributed to a confused, disorderly evacuation that could have turned deadly.
"You may be in a portion of the aircraft that is not yet on fire, and you think you have time," said Sara Nelson, president of the Association of Flight Attendants, "but conditions can change in seconds. That aircraft can burn very quickly."
Story: David Koenig, David McHugh