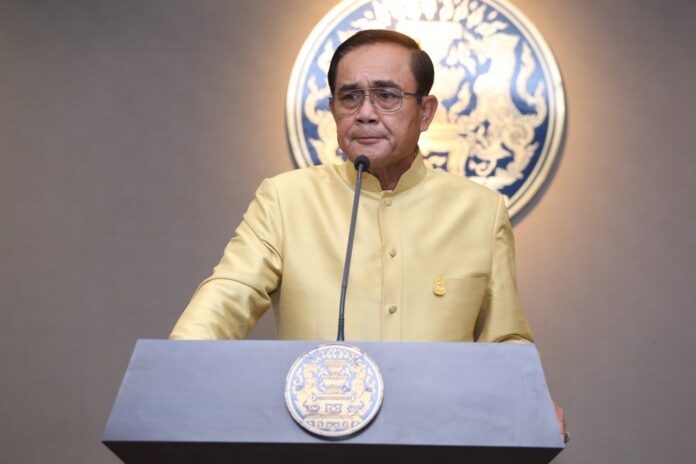 BANGKOK — Junta chairman Prayuth Chan-ocha reiterated Thursday his pledge for a general election next year, thought he said it could be postponed again if some unspecified conflicts erupt.
In a speech to reporters, Prayuth also said his regime respected the rule of law and called on the media not to antagonize the public in their coverage.
"Of course there has to be an election next year, no matter what, except if a fight breaks out to the point that there can't be an election," Prayuth said. "Or perhaps there will be a fight and an election at the same time."

Prayuth then stressed he wasn't suggesting he's opposed to the poll.
"Last time there was a fight too," the junta chief said, referring to the 2014 snap election boycotted by anti-government protests. "It's not as if I don't want an election. If you want to vote, then go vote."
---
Election Vow Highlights:
Election Will Take Place in October 2015 at Earliest
Post-Coup Election May Be Delayed To 2016
'There Will Definitely be an Election' in 2017, Prayuth Promises
Junta Promises Election in 2017, For Real This Time
No Elections For Thailand This Year, NLA Says
No Really, There Will Be Elections This Year, Prawit Says
Asserting 'Thailand First,' Prayuth Says Elections Up to Him
---
Prayuth was speaking at a forum marking the 72nd anniversary of the Bangkok Post newspaper, where he urged the media to consider national unity and reconciliation in their work, instead of only focusing on commercial gains.
The retired general went on to defend his regime's record on good governance, despite wielding absolute power under the constitution.
"I already said I would not interfere with the justice system," Prayuth said. "Even though I have Section 44, I would not use it on them, because I honor them, and I believe Thailand exists today because of its justice system."
In the latest promise made by the junta, an election will be held in early 2019, though similar pledges were repeatedly postponed in the past.
Doubts were raised again in June when Prayuth told reporters the poll would only be organized after King Vajiralongkorn undergoes his formal coronation ceremony, which is yet to be scheduled.