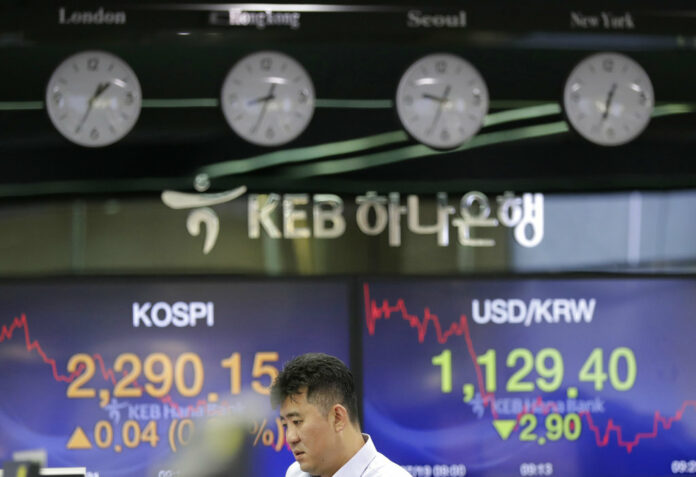 BEIJING — Asian stock markets edged higher Wednesday after Wall Street gained on strength in technology and retailing
Keeping Score
Tokyo's Nikkei 225 rose 0.4 percent to 22,914.69 and Hong Kong's Hang Seng advanced 0.2 percent to 28,415.23. The Shanghai Composite Index lost 0.3 percent to 2,768.23 while Seoul's Kospi gained 0.2 percent to 2,308.43. Sydney's S&P-ASX 200 advanced 0.4 percent to 6,330.20 and India's Sensex added 14 points to 38,906.93. Benchmarks in Taiwan and New Zealand gained while Jakarta and Bangkok declined, with the SET trading at 1,718.87 Wednesday afternoon.
Wall Street
The Standard & Poor's 500 index closed at a new record. Shoe retailer DSW surged 20.2 percent after reporting stronger-than-expected results. Apple added 0.8 percent and chipmaker Qualcomm gained 3.6 percent. The S&P 500 rose less than 0.1 percent to 2,897.52. The Dow Jones Industrial Average added 0.1 percent to 26,064.02. The Nasdaq composite gained 12.14 points, or 0.2 percent, to 8,030.04. Energy companies dipped along with oil prices.
NAFTA
Canada's foreign minister said she had a "constructive conversation" with U.S. Trade Representative Robert Lighthizer about how to revamp the North American Free Trade Agreement. Chrystia Freeland arrived in Washington for talks after the Trump administration reached a preliminary deal with Mexico to replace NAFTA. While some experts think stocks could rally if the U.S. and its partners make progress on new trade deals, others say it is unclear how much tensions have harmed stocks.
Analyst's Quote
"The initial euphoria from the U.S.-Mexico agreement died down" and "mixed views" from Canadian officials gave investors little guidance, Jingyi Pan of IG said in a report. Investors appear to be looking at the Mexico talks "to project how the U.S. administration would likely remain adamant as well in dealing with China that could invite further tensions ahead," said Pan. "One to watch, nevertheless, as more tariffs loom."
Energy
Benchmark U.S. crude added 4 cents to USD$68.57 per barrel in electronic trading on the New York Mercantile Exchange. The contract sank 34 cents on Tuesday to close at $68.53. Brent crude, used to price international oils, gained 2 cents to $76.31 in London. It shed 21 cents the previous session to $76.29.
Currency
The dollar gained to 111.29 yen from Tuesday's 111.19. The euro advanced to $1.1692 from $1.1696.
Story: Joe McDonald