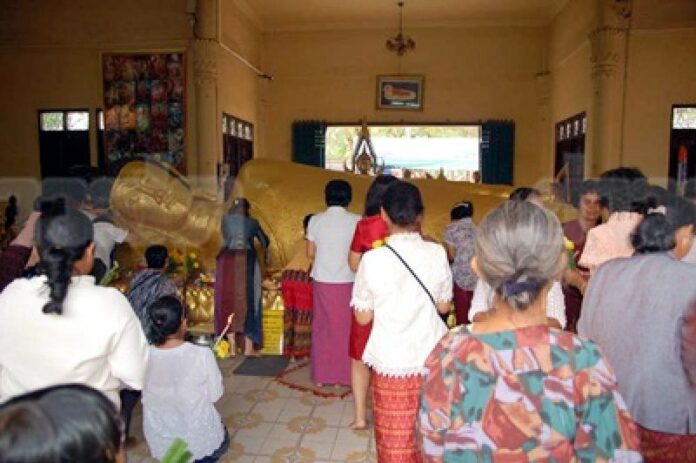 A survey claims 92% of monks think lottery is a sin, while a sizable proportion of interviewed monks admit they occasionally assist templegoers in choosing lucky lotto number.
Ms. Thaniccha Limpanich, the director of Family Foundation, unveiled the survey result in a panel discussion under the topic of "Gambling and Degeneration in Buddhism", which was co-hosted by the Foundation and an anti-gambling network at Suan Moke, Bangkok. The survey was conducted by Assumption College (ABAC Poll), covering 909 20-39 year old monks from the provinces of Chiangmai, Konkaen, Chonburi, and Songkhla.
50.9% of the respondents say there are aware of problems caused by gambling in their communities, citing debt, fights, thefts, and disputes amongst family members as examples. Asked why locals buy lottery, 59.8% of the monks interviewed said the locals "wanted to try their lucks" and 50.6% answered the locals were looking for a "shortcut to being rich".
According to the survey, 92% of respondents believed that lottery is against Buddhism, did not want to see lottery buying or any gambling take place in temple compounds, and would oppose the plan to install government-sanctioned automatic lottery dispensing machines. 45% of monks surveyed also believed the authorities should seriously crackdown on illegal types of lottery whereas 23% wanted every type of lottery banned.
Upon being asked whether the respondents were involved in lottery business, 60.6% of the respondents said they did not buy lottery or encourage lottery buying in any way. However, 23.5% said they were involved in the trade via actions such as suggesting lucky lotto numbers for templegoers. Furthermore, 24.3% admitted having been encouraged by the templegoers into buying lottery themselves.