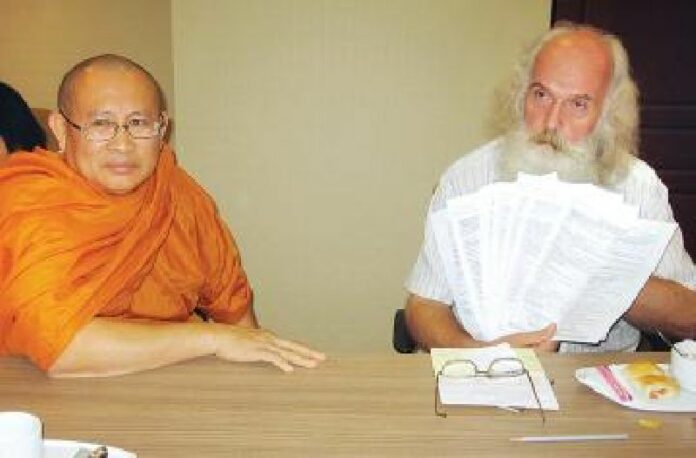 (1 May) An American citizen who allegedly lost his 11 million baht to a scamming wife sought help from Thai officials.
Mr. Roger Harpel, 63, of US nationality, was brought to the Ministry of Justice for legal
assistance by the abbot of Dhammacharoen temple. Mr. Harpel told reporters that he was married to a
Thai wife and had 1 child together, and that he trusted his wife so much he appointed her the
director of his real estate and export company based in Pattaya.
However, Mr Harpel said, the
woman was later caught embezzling 11 million baht to her mother's account and he pressed charges.
The woman reportedly died during the case and now her mother has become head of the estate, claiming
to sell the properties worth 40 million baht and split the money equally between the two parties.
Yet, according to Mr. Harpel, he has not seen a penny since.
Mr. Rogers told the
reporters he has been in Thailand since 1989, and added that he had paperwork to prove that he was
the lawful father of the 11 year old girl he fathered with his deceased wife. Therefore, he said, he
wants the embezzled assets back so he can provide for his daughter.
He also said that when he
arrived in Thailand, he had 25 million baht to put into his business – but because he does not know
Thai language, he has been taken advantage of by the lawyers. He has no desire to settle and is
fighting for custody of his daughter.
"This is not a coincidence or fate. It is all because
of the greed of this woman whom I trusted. I am not dwelling on the betrayal. I just want my assets
back. I don't even have a place to sleep since the house is on court ordered auction.", Mr. Rogers
said.
Samuhasuthep Chinwaro, the abbot of Dhammacharoen temple, revealed that Mr. Rogers had
been staying at the temple for about 3 months and has helped out around the place, sweeping the
temple court, teaching Dharma in English, etc.
The police said that the Department of Civil
Protection is seeking to provide free legalaid and a fair lawyer to fight the case.
Nonetheless, they cautioned, it is unlikely that 100% of Mr. Rogers' assets will be returned
to him. The costs related to traditional court and the DNA test will be paid for by the
Department.