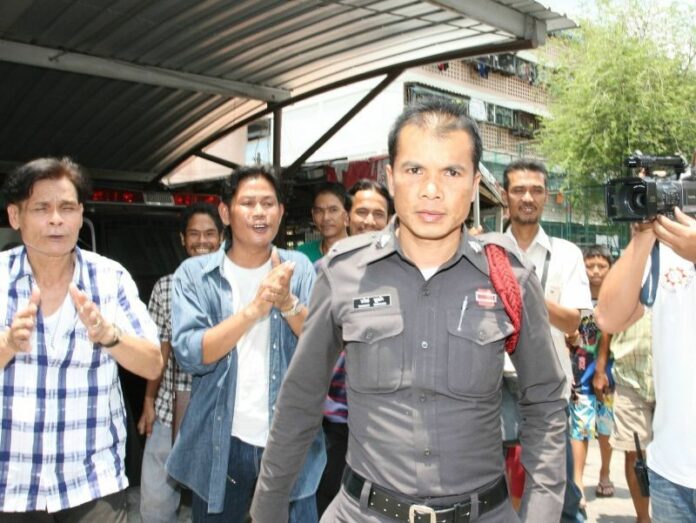 (1 May) Sergeant Major. Worawit Nukulkij, police official of Din Daeng police station has been stripped of his position after a video clip exposing him taking advantage of a woman by searching her in a motel instead of a police station caused controversy in the online community.
Criminal proceedings will continue when Mr. Worawit comes in for questioning. The victim is currently debating whether or not to press further charges.
Earlier today, Mr. Worawit reported for duty at the Din Daeng police station amidst shouts of support by his family and neighbors. Upon arrival, he hurried up to meet Pol Col. Panob in his office, without revealing any details to the reporters at the scene.
His supervisor informed him of the commander′s order to leave the government position due to his pending disciplinary investigation whereby Mr. Worawit, straight faced, signed acknowledgment to all orders in less than 5 minutes. As he left the police station, his support groups helped bar the journalists from approaching and taking photographs.
A senior police officer said the Disciplinary committee to determine the verdict. The duration of the investigation is not yet identified. Mr. Worawit will have the right to clarify and fight his case as the accused.
He also added that the victim had not yet come in, but from questioning the 2 men in the video clip who are her friends, it is clear that there was no rape no sexual violation. However, Mr. Worawit still needs to be questioned on the matter.