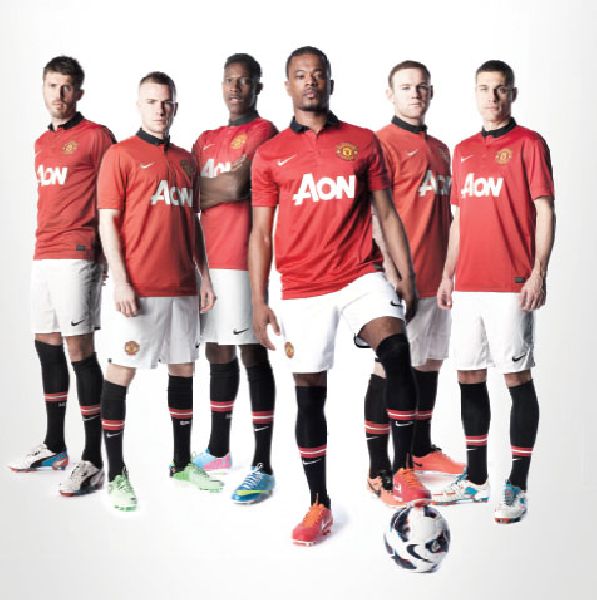 The renowned football team of Manchester United is set to arrive in Thailand on July 11 before kicking a big match against 'Singha Allstar' on July 13.
Manchester United commands an enormous fanbase in Thailand, where English football leagues are widely broadcasted and extremely popular.
The football match celebrating the 80-Yeal-Old Boon Rawd Brewery & Singha Corporation Co.,Ltd. will be kicked off on July 13, which Manchester United will play against "Singha Allstar" team.
The premiere league champion, led by the newly appointed manager David Moyes, will bring all the big names, such as Robin Van Persie, Wayne Roonie, Nemanja Vidic and Ryan Gigs to the field against the Thai team.
Manchester United plans to reach Thailand on the July 11, before going to sign a get-well message to His Majesty the King at Siriraj Hospital. The team will then attend the Manchester United Soccer School and teach selected Thai youngsters some football skills.
On July 12, some team members will join light rehearsal, while the others teach at the academy. Later in the evenings, the team will hold an open rehearsal at Rajamangala National Stadium, and a press conference about the match, which takes place the next day.
The event on July 13 will start from 3 pm onwards, with fans activities and souvenir shops. The gate will be opened at 5 pm, followed by the opening ceremony at 7.45 pm by Mr. Santi Bhiromphakdee, Singha Corps. Ltd Managing Director. The game will kick off at 8 pm and will be broadcasted live on MCOT Channel 9.
Afterwards, the squad will set off to Don-Meung Airport for their flight to Australia.
'Singha Allstars will not be defensive'
Mr. Piyapong Piew-on, Singha Allstar manager, vows that Singha Allstar team will not apply defensive strategy while playing against Manchester United.
"Manchester United is a world class team. We must be prepared, but will not apply defensive strategy to aim for a 0-0 game. We must play crossed-fists even we know we are disadvantageous. We are aiming for a beautiful game, and for the 80th year celebration for Boon Rawd Brewery & Singha Corporation Co.,Ltd., it does not matter if we win or lose, but it matters that the fans will get to see an exciting game. I am also looking forward to learn something from David Moyes too."
Singha Allstar team members will meet on July 11, at SC Park Hotel, followed by a rehearsal at 7 pm at Thailand Sports Authority Stadium 1.