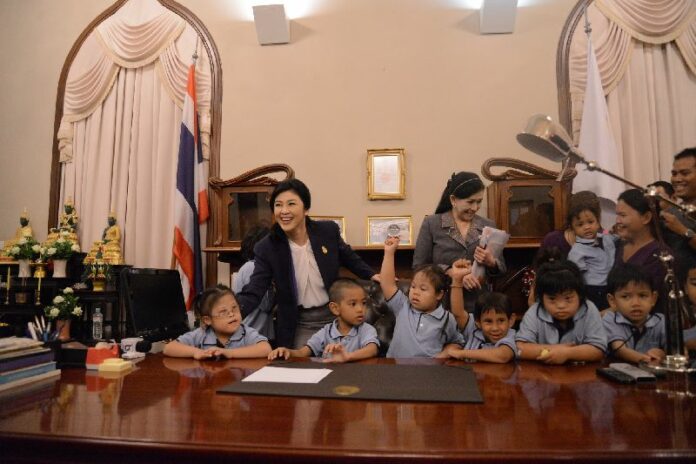 (27 September) Prime Minister Yingluck Shinawatra has instructed the Ministry of Transport to study the plans for low-floor public buses to promote greater accessibility for disabled people.
At the meeting with over 100 people with disabilities at the Government House on 26 September, Ms. Yingluck promised to have the Ministry of Transport revise plans for the purchase of 3,000 buses in Bangkok metropolitan area, as proposed by the Bangkok Mass Transit Authority (BMTA).
BMTA had proposed to spend 16 billion baht to buy 3,000 buses, of which only 1,524 are equipped with elevators to support those with disabilities.
Mr. Wiriya Namsiripanpong, founder of the Universal Foundation for Persons with Disabilities, said that the current plan could create discrimination against the disable people, and suggested that the government should adopt the 'low-floor bus', which could be equally accessed by passengers with or without disabilities.
During the meeting yesterday, the Prime Minister explained that Bangkok's low areas may prevent the accessibility of the low-floor bus, particularly due to frequent flooding in the roads.
However, she told the visitors she would appoint an authority to study the possibilities and routes that the service could be provided, but admitted that the service might not be 100% accomplished.
Mr. Teerayuth Sukhonthawit, President of the Association of People with Disabilities in Nonthaburi province, said that the low-floor buses are designed to comply with international standards in terms of its accessibility by all people.
He said his group has been working to promote the deployment of the disabled friendly buses. Mr. Teerayuth said many public buses in Bangkok are still unable to fulfill the need of people with disabilities.
The Prime Minister has insisted that the government is trying its best to facilitate the disabled and elderly people.
During their visit, Ms. Yingluck also led the group to tour her offices and take turns to take a seat on the Prime Minister's chair.