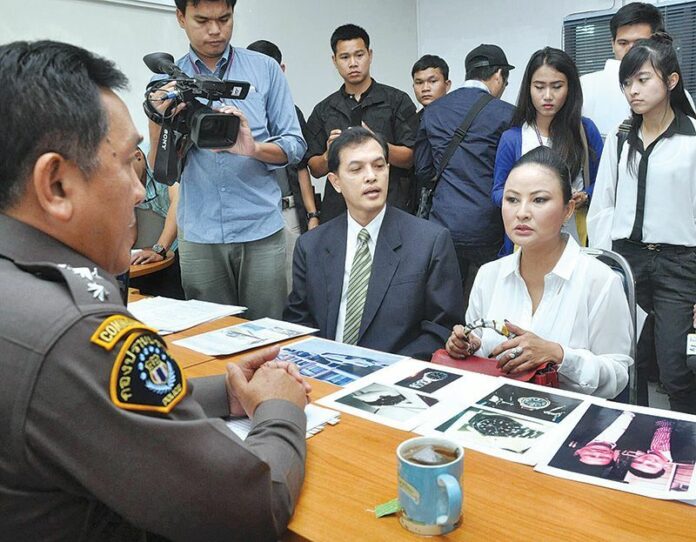 (28 September) An owner of a fine art foundry has filed a complaint to the police that she has been defrauded by a 24 year old man who claimed to be the son of a Royal Thai Army general.
↵
Ms. Kamonnat Sangkate, 47, whose company is based in Italy, filed notice to police against Mr. Rachata Soonthornwipat, 24, for also disguising himself as a Second Lieutenant in the Royal Thai Army.
According to the victim, Mr. Rachata had been in contact with her through mutual friends, and had supplied a car worth 3.7 million baht to her, presenting himself as a partner of a car dealer company.
She said she later realised that Mr. Rachata had tricked her into signing a document which granted him the right to transfer the car into his possession before he gave it to other individuals.
Later, after she returned to Italy, Ms. Kamonnat was still in contact with Mr. Rachata from time to time, as he asked her to buy him brand name items to be sold in Thailand.
But Ms. Kamonnat said Mr. Rachata simply disappeared with the items. She had allegedlybeen swindled of 5.66 million baht by Mr. Rachata. She then appointed a lawyer to fight him in court.
During the investigation, Ms. Kamonnat said she received a call from a mysterious woman threatening her for her legal move, which prompted Ms. Kamonnat to search for Mr. Rachata's real identity.
Ms. Kamonnat also submitted to the police a number of documents as evidence, including a picture of the man in army uniform, a letter from the Thai Army stating that Mr. Rachata is not one of its officers.
She said she wants to warn others the dangers of Mr Rachata′s deceptive behaviour who reportedly also goes by other names such as Bhuwares and Chanont.