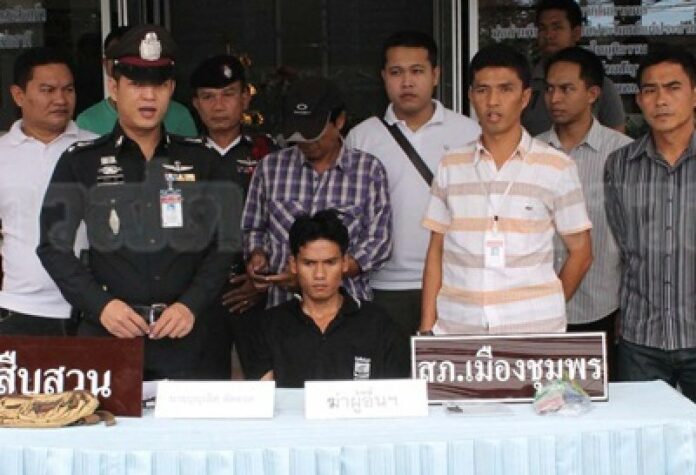 (10 October) A man reportedly shot his ex-girlfriend to death in a shopping mall because she had a new boyfriend.
Police arrested Mr. Boonlert Ladlod, 35, from Mueang District, Chumphon province, in connection with the murder of Ms. Piyakron Homlarp, 34, a resident in Thasae district.
Initial investigation suggested that the victim was a worker in a coffee shop inside Chumphon′s branch of Tesco Lotus.
CCTV camera had recorded the time when Mr. Boonlert allegedly fled the scene by his motorcycle. The image of Mr. Boonlert captured in the CCTV was later confirmed by witnesses that he was the alleged murder.
The man then confessed of murder, after the police pressed charge against him.
Explaining his motives, Mr. Boonlert said that he and Ms. Piyakorn decided to end their two-year relationship prior to the incident, and Ms. Piyakorn promised she would not date any other man until Mr. Boonlert is over her.
However, Mr. Boonlert believed that Ms. Piyakorn broke the promise, as he had seen her with another man in the mall. He felt insulted by the sight, and decided to commit the crime.
The alleged murderer said he threw the gun in Tha Taphao canal, but the police had yet found it.
For comments, or corrections to this article please contact: [email protected]
You can also find Khaosod English on Twitter and Facebook
http://twitter.com/KhaosodEnglish
http://www.facebook.com/KhaosodEnglish